Tuesday, October 26th, 2010
Cookbook serves up history, information and recipes
By Margie Wuebker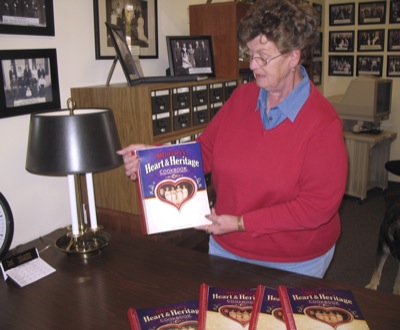 MINSTER - Minster Historical Society has cooked up a tasty fundraising project to ensure the preservation of local documents for future generations.
Minster's Heart & Heritage Cookbook combines more than 300 recipes, along with historical information and old photographs, into a spiral-bound volume.
"This book is so much fun," committee member Mary Oldiges said. "You get a cooking lesson and a history lesson in one sitting."
Each of the nine chapters has a theme - German Favorites, Appetizers/Snacks and Beverages, Bread and Rolls, Soups and Salads, Vegetable Dishes/Canning and Freezing, Casseroles and Main Courses, Pies and Cakes, Cookies and Confections and History Making Days.
Although the latter chapter contains no recipes, it shares information about the community's German heritage, including sons and daughters called to military or religious service, the digging of the first well, life in the canal era and the evolution of the school system. Photos from bygone days appear throughout the 233-page book.
In January The committee, comprised of Mag Dues, Kathy Watercutter, Ann Gossman, Ronnie Raible and Oldiges, laid the groundwork for the ambitious project. The request for recipes went out as spring arrived.
"There are new recipes as well as oldie goldies," Oldiges said. "We have amassed some real gems like Katie Cozad's bean soup, a Friday lunch favorite at The Dutch Mill."
Other gems include chicken fried steak from the Townhouse Restaurant, Date-Nut Loaf from Kuehner's Bakery and Goetta (grits) from Woehrmyer's Meat Market. The businesses are no longer in operation.
"There are not many cookbooks where you can find directions for Dandelion Greens as well as information regarding the first village ordinances (such as no galloping horses and no obscene language or fighting)," Oldiges said with a laugh. "This book even includes tips on the proper dunking of zwiebach compliments of Kuehner's Bakery."
With the first batch of 550 books nearly gone, more books have been ordered. They are on sale for $20 at the historical society museum, Wagner's IGA, Wooden Shoe Inn, Stallo Library, Minster Bank (main office), Schwieterman's Pharmacy, Jenni's Hallmark, Western Ohio True-Value and Minster Flowers & Gifts.
Revenue is earmarked for transforming microfilm into computer-generated discs. The society also wants to preserve old village ledgers and maps and the local newspapers, so they can be viewed by the public without threatening their condition.
"It would cost us more than $80,000 to do just the newspapers," Oldiges said. "We can purchase the equipment for $15,000 to $20,000 and save the organization buckets of money."

Recipes from book:
Springerle
Note: Historical Society members make these cookies for their Christmas at the Museum celebration.
4 eggs
2 1/4 cups sugar
1 1/2 tablespoons anise extract (vanilla may be substituted)
2 teaspoons lemon peel
3 1/2 cups flour
1 teaspoon baking powder
Beat together eggs and sugar; add extract and lemon peel. Sift together flour and baking powder, and add to sugar mixture.
On floured surface, roll dough to 3/8 inch thickness with a smooth rolling pin. To prevent the dough from sticking, mix 2 tablespoons flour and 2 tablespoons confectioner's sugar and rub into Springerle rolling pin. Roll firmly over rolled-out dough. Cut squares apart.
Grease cookie sheet. Place squares 1 1/2 inches apart on cookie sheet. Cover with paper towel and let sit for 12 to 24 hours to set design. Bake at 300 degrees for approximately 10 to 12 minutes, or until tops are pale and bottoms are lightly browned. Cool; store in airtight container up to 2 weeks. Makes approximately 60 cookies.

Dorothy Wolf's German Oatmeal Cake
1 cup quick oats
1 cup boiling water
1 cup brown sugar
1 cup granulated sugar
1 stick butter
1 1/2 cups flour
1/4 teaspoon salt
1 teaspoon baking soda
1 teaspoon cinnamon
2 eggs
1 cup raisins
For icing:
10 tablespoons brown sugar
4 tablespoons cream
6 tablespoons melted butter
1 cup coconut or nuts
Combine oats and boiling water; set aside. Cream together brown sugar, granulated sugar and butter. Mix flour, salt, baking soda and cinnamon, and combine with creamed mixture. Add oats. Beat in eggs and raisins. Pour into greased 9 x 13-inch cake pan. Bake at 350 degrees for 30 minutes.
For icing: Mix ingredients and spread on baked cake. Put under broiler for a few minutes.