Wednesday, October 27th, 2010
Area escapes major damage
Unconfirmed twister reported near Chickasaw
By Margie Wuebker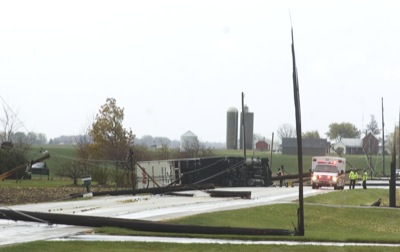 Tornado warning sirens sounded Tuesday morning as a strong storm packing brisk winds and pelting rain bore down on Mercer and Auglaize counties.
The area escaped with only a few toppled utility poles, downed lines and random damage. There also were unconfirmed reports of funnel cloud sightings near the Mercer-Darke County line on U.S. 127 and in the vicinity of Chickasaw.
The National Weather Service in Wilmington reported at least three tornadoes touched down during the storm - one near Convoy in Van Wert County that damaged several roofs destroyed a barn and carried a large windmill approximately 40 yards. The other confirmations were in Groveport, south of Columbus, and midway between Cincinnati and Columbus in Fayette County.
The weather service is still checking out a possible tornado in Cridersville, located in northern Auglaize County. Several homes were destroyed and many others damaged.
All of the confirmed tornadoes rated a zero, the lowest level on a rating scale with wind gusts ranging as high as 85 mph.
Locally, the Neil Armstrong Airport in New Knoxville reported gusts as high as 56 mph.
Shortly before noon, heavy winds in Mercer County tipped two tractor-trailer rigs. The first accident at 11:36 a.m. along state Route 274, east of Carthagena, resulted in minor injuries. The highway remained closed at mid-morning today as crews replaced utility poles snapped by the wind, bringing down electric lines.
The other accident occurred at 11:50 a.m. along state Route 119, west of U.S. 127. The driver escaped injury but the rig owned by John Cheeseman Trucking of Fort Recovery sustained heavy damage.
Approximately 2,900 members of Midwest Electric were without power in the wake of the storm. The outages were scattered throughout the company's seven-county service area, with the majority in Granville, Franklin and Marion townships in Mercer County and St. Marys and German townships in Auglaize County.
By 4 p.m., the number of outages was just less than 1,600, with the majority served by the cooperative's Lake Substation at the corner of Mercer-Auglaize County Line Road and Clover Four Road.
The storm did not come as a surprise to Wanda Dicke and her staff at Emergency Management Agency (EMA) in Celina.
"We had advance warning. Weather forecasters were already warning of strong storms on Monday," Dicke said.
Initially, the Grand Lake area was under a tornado watch, meaning weather conditions were right to spawn funnel clouds. The advisory was updated to a warning of imminent tornado activity with sirens activated around 11 a.m.
The EMA earlier contacted schools, factories, nursing homes, daycares and Mercer County Community Hospital in Coldwater to warn staff members of deteriorating weather conditions.
"One of the reasons we were so aggressive this time is people don't expect tornadoes in late October," Dicke said. "The truth is a tornado can strike any time of the year when weather conditions are right."
Local temperatures hovered near the 74-degree point prior to the storm's arrival, with the mercury plummeting to the low 60s in a matter of minutes. Heavy rain signaled the arrival with most areas receiving an inch or less.
Gery Thobe, chief deputy with the Mercer County Sheriff's Office, watched the approaching storm which he described as a "white wall with a downpour I've never seen before."