Wednesday, October 27th, 2010
Civil War author reveals experience of common folk
By Janie Southard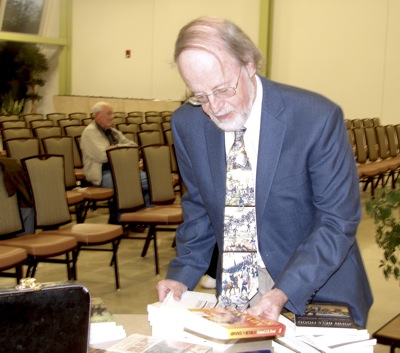 CELINA - Johnny Reb and Billy Yank, their Civil War compatriots and families, were the focus of a presentation, the Common Folks of the Civil War, by author Richard McMurry last week.
"The activities of the bigwigs, the kings, emperors, popes were preserved in writing so what we know of them is interpreted from those written records. The average people couldn't write until the mid 19th century. There's no history on record so what we know of the everyday people must be painfully reconstructed. We don't really know what they wore, their beliefs," said McMurry, considered an expert on the Civil War.
McMurry was the guest speaker of the Western Ohio Civil War Round Table meeting at Dicke Hall at Wright State University-Lake Campus.
Two of McMurry's books were named to the rolls of the top 100 Civil War books ever written, according to Civil War Magazine. But among military history, the Civil War and its allure, McMurry is interested in the plight of the common folks beginning when the boys from towns and farms left for the war, most for the first time ever away from home.
"Both North and South typically raised their troops from an ad in the local newspaper, probably placed by a prominent citizen, inviting the men to meet in the town square to learn how they could protect their country," McMurry said. "No doubt, even here the Celina newspaper ran some kind of recruiting ad that called the men to town."
And they did come to town where there were tables of food, local bands, veterans from the Battle of 1812 and even some left from the Battle for Independence. Also there were "pretty girls" circulating through the crowd, urging them to join the cause.
"Often ladies' underwear was sent to those who did not sign up as a comment on the man's bravery," McMurry said.
Those who
did sign up formed regiments of 20 men plus elected officers and all went off for training. The regiments gave themselves names.
"Celina's
names could have been the Celina Blues. Some of my favorite names are from the South - the Mississippi Yankee Hunters and the Peg River Invincibles," he said.
It is from the resultant letters home, diaries of soldiers and of those who waited at home that historians have eked out the suffering and valor of the common folk of the mid-19th century war.
While a graduate student at Emory University in Atlanta, McMurry worked with Bell Irvin Wiley, an esteemed Civil War historian whose work pioneered research on the common soldier and his family.
"I'm stealing a lot from Bell Wiley tonight, but I graded enough papers for him that I'm not going to worry about it," McMurry said.
Wiley described the average soldier as a "white, native-born, farmer, Protestant, single, between 18 and 29."
McMurry composed a typical letter home based on his research of hundreds of original letters now at various museums.
"The soldiers on both sides had basically the same background and almost all were Christian, although there were some Jews and, actually, some Hawaiians. Most were of English heritage, some German, Spanish and even some letters home from Cherokees are in the Smithsonian," he said.
The letters home were usually to the wife and began simply Dear Wife. Some began, Dear Esteemed Friend - times were different then, he pointed out.
"They wrote, 'I take pen in hand to draft a few lines. I'm hopin' you are in good health and enjoyin' life's blessings,' " he gave as an example. The speech then was of the 16th and 17th century English, which dropped g's on many verbs.
"And health was a big issue then. Twice as many soldiers died of disease than were killed in battle. Often they were taken to a horse-pistle, which was usually a converted barn," he said.
He also told the Civil War buffs about the "sinful practices," things the soldiers wouldn't think of doing at home - drinking for one. Many brought along home-brew and picked up some along the way.
"There was Red Eye, Bust Skull and an interesting one called Rock Me to Sleep, Mother," McMurry said. "Sometimes the men just poured all the brew into a big pot of punch."