Thursday, October 28th, 2010
Parkway rallies after losing the first game
Division III District Volleyball at Kalida
By Ryan Hines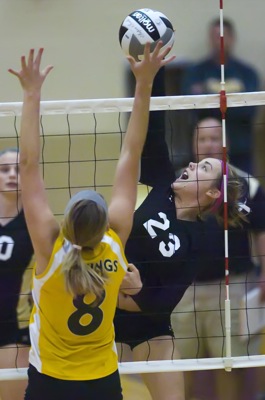 KALIDA - The Parkway volleyball team got an early wake-up call on Wednesday night in Kalida.
Evergreen opened the Division III district semifinal with a 25-21 win, but Parkway rallied to win the next three - 25-15, 25-20 and 25-15 - for a berth in Saturday's district final.
Parkway (19-5) will play Lima Central Catholic at 6 p.m. with the winner advancing to next week's Liberty-Benton Regional. LCC knocked off Tinora in a marathon match - 25-10, 25-19, 24-26, 24-26 and 15-11 - during Wednesday's nightcap.
The Panthers' chance at advancing to Saturday's district final didn't look good in the early going as Evergreen's Ingrid Oswald (6-3 middle-hitter) and Lauren Langenderfer (outside-hitter) took turns tormenting the Parkway defense.
Oswald was a dominant force at the net in the first game as she used her height for two kills and four blocks while Langenderfer rifled seven kills to the floor. Evergreen outlasted Parkway 25-21 in the first game behind the play of their hard-hitting duo.
Parkway's defense then adjusted to Oswald and Langenderfer.
"I told the girls that you have to be ready for every game at this level and you have to be focused. I'm not sure that we were focused as much as we should have been in that first game and Evergreen took advantage," said Parkway head coach Jeff Marbaugh. "We adjusted our defense to what they were trying to do after the first game and I think that the girls did a much better job of slowing down their offense."
With Oswald and Langenderfer under control, Parkway began to show off its balanced offensive attack with the hitting of Emily Crowell, Kelsey Bates, Bailey King, Haley Burtch and Haley Roehm.
Crowell and Bates led the Parkway comeback with six kills each in the second game. The Panthers broke a 10-10 tie by winning six of the next seven points and the Vikings never got closer than four points the rest of the way in Parkway's 25-15 triumph.
Evergreen jumped on top 8-3 to start the third game, but the offensive balance by Parkway paved the way for a comeback. Crowell, Bates and Roehm had two kills apiece as Parkway crept in front 17-13. Evergreen pulled to within three points on two different occasions but kills by Butch and Crowell gave the Panthers the final push they needed for a 25-20 victory.
"I thought we did a good job of spreading around the offense and each girl did their job out there, which is why we are moving on tonight," said Marbaugh. "We got after it once we lost that first game and I'm proud of the way the girls fought back."
Game four was all Parkway.
The Panthers went on top 4-0 after a nice service run by Morgan Cron prior to Evergreen tying it twice at 5-5 and 10-10. Parkway's Peyton Heitkamp then served up seven straight winners and the Panthers were in control 17-10. Evergreen was never closer than six points the rest of the way.
"I thought that we did a good job of adjusting to their big hitters after the first game and just played our game from there," said Crowell, who was tied with Bates for the team lead with 17 kills. "We kind of got woke up after that first game and we played the way we are capable of playing."