Saturday, October 30th, 2010
Man, woman shot to death
Seven children at Celina home when deaths occurred
By William Kincaid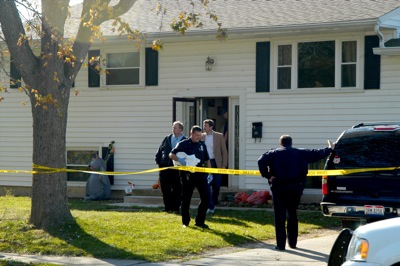 CELINA - An estranged wife and husband are dead in the wake of an alleged murder-suicide on Friday afternoon at the home where the woman was caring for seven children.
The bodies of April Vann, 33, and Eric Vann, 34, were found at 719 S. Elm St. by Celina Police after they received a call about a shooting at 1:52 p.m. The squad determined nothing could be done for the two, police chief Dave Slusser said. The children were not injured.
According to Slusser, Eric Vann allegedly entered from the back of the home where April Vann was residing and providing daycare services. Slusser said Eric Vann, who had been staying at a rural Celina home with a friend, confronted April Vann and allegedly shot her with a handgun before shooting himself.
"On the surface it appears to be fairly clear cut," Slusser said, pointing out the official investigation likely will take seven to 10 days.
Slusser said the couple were separated and there was an active court order preventing Eric Vann from being around his wife or near her home. According to Mercer County Jail records, Eric Vann was released from jail Oct. 1 after serving a sentence for charges of operating a vehicle while intoxicated and using a weapon while intoxicated.
At the time of the shootings, there were seven children at the home - six in the backyard and a baby in a playpen in the house, according to Slusser. One of the children, a 4-year-old boy, is the son of the deceased couple. The couple's two other children - ages 11 and 7 - were in school at the time of the shootings.
Slusser said the children at the home did not witness the shootings but did hear the gunshots. All of the children were under the age of 6.
"Immediately after the shooting had occurred, six of the children, together as a group, left the home and went to a neighbor's home seeking help," Slusser wrote in a media release. "They stated they were unable to get the baby that was left in the home out of the playpen to bring with them."
The next door neighbor made the call for help, Slusser said.
"The children left a situation that they knew was not right and went and found help," Slusser said.
The children were all picked up by their parents soon after, Slusser said.
"It doesn't appear the children were ever a subject or a target of this incident," Slusser said.
People could be seen crying and hugging at a nearby residence shortly after the shootings.
The bodies were transported to the Montgomery County Coroner's Office for autopsies, according to Slusser. Members of both families met and made arrangements for the care of the Vann children, he said.