Friday, October 8th, 2010
Baker Woods Nature Preserve a Mercer County treasure
By Betty Lawrence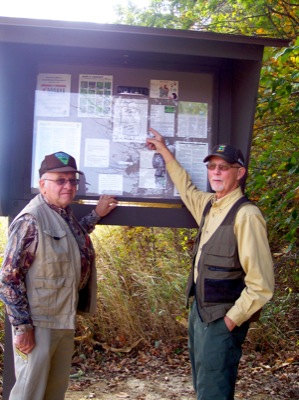 Baker Woods Nature Preserve is Mercer County's "Best Kept Secret," says the woods' hiking trail keeper Ron Westgerdes.
A veteran at walking the woods' trails, he took his love for nature and the outdoors one step further earlier this year when he became a volunteer employee of the Ohio Department of Natural Resources' Division of Natural Areas and Preserves.
"Basically, I monitor the trail and keep it clean. If there are branches down across the trails, I open it back up," Westgerdes explained.
The woods' pungent, almost sweet, smell of moss-covered logs and towering centuries-old beech, oak and walnut trees warmly summoned me on a recent sunny autumn afternoon.
Fall is not complete with at least one walk in the woods.
With walking sticks in hand, Westgerdes and his friend, forest consultant LeRoy Rutschilling, led me along the paths that meander through the woods.
The walking sticks, made by Westgerdes, are available for public use at the start of the trails. Rutschilling brought along his own stick made of honeysuckle.
"This woods was donated in 1992 by the Lela Mae Baker family to the state for public use. Lela Mae wanted everyone to be able to enjoy the woods," West-gerdes explained.
The 47-acre woods was designated a state nature preserve and the walking trails were opened earlier this year for the public's enjoyment. The ODNR also recently put up signage for both the preserve entrance and trail signs.
"Many of these big trees are between 200-300 years old," Rutschilling said, as he pointed out the giant oak, beech, and walnut trees.
Trees downed by age and Mother Nature's storms, have been sectioned and strategically placed along the trails for those wishing to rest a minute and savor their surroundings.
"That's called Chicken of the Woods, an edible fungus," Westgerdes with his stick to a curious-looking growth on a tree trunk. The fleshy fungus is limited to eastern North American hardwood forests.
The woods, located at 43166 St. Anthony Road, also is home to a large growth of pawpaw trees.
I remember reading an article several years ago about the dwindling number of pawpaw trees, which are indigenous to Ohio, but now I question that article. They are thriving in Baker Woods. This tree also is host to the zebra swallowtail butterfly.
It's no coincidence that the two hiking trail loops are named Pawpaw Loop and Lela Mae Loop.
"I walk the woods year-round, but winter is my favorite time for walking. You get more bang for your buck," Westgerdes said.
Westgerdes reports to John Lewis, Park and Preserve Manager for Kiser Lake State Park and Northwest District Manager, Buck Creek Region.
According to Lewis, there are 7,000 volunteer employees in the state's Division of Parks and Recreation and 200 in the Division of Natural Areas and Preserves.
"It's people like Ron that help keep us going. Our volunteers are invaluable," Lewis said.
Persons who volunteer at the parks and preserves love the outdoors and want to participate in their community, he noted.
Most state preserves, including Baker Woods, have ODNR bulletin boards with contact numbers for those interested.