Monday, November 1st, 2010
Company testing lake algae looks at jet fuel
By Nancy Allen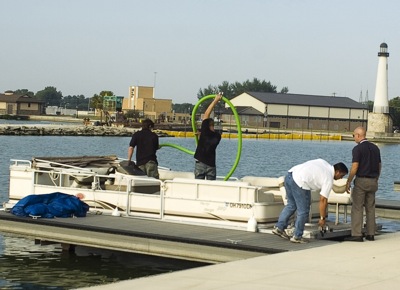 GRAND LAKE - A company working to help solve Grand Lake's blue-green algae problem also is researching turning algae into jet fuel.
Ross Youngs, CEO of Algaeventure Systems, the Marysville-based company conducting the silica test on the lake, said data gathered from Grand Lake may be used in the company's study of jet fuel.
The company received a technology grant to research the technical and economic feasibility of producing aviation fuel for the U.S. Air Force from renewable resources grown in Ohio.
"We are already doing some of the preliminary work on Grand Lake to ultimately support that award," Youngs said, adding that was all he could say about the matter, based on an agreement with collaborators. "The steps to determine what the lake's algae can be used for is something we are pursuing, independent of any of our current contracts."
Youngs said his company is looking at making numerous products from algae, such as nutritional supplements, human food, fish and/or livestock feed, adhesives and compounds typically made from petroleum, such as bioplastics.
Most would likely be made from diatom algae, because it does not produce toxins and contains more lipids (oil) than blue-green algae. The ongoing silica test on Grand Lake is meant to determine if silica (sand) can help diatom algae grow and overtake the lake's harmful blue-green algae. A report on the test likely won't be released publicly by the Ohio EPA until January, he said.
"We're looking at every opportunity for valuable products, so in essence it's not just about jet fuel for us, though we do care about it and would like to achieve that," Youngs said.
Youngs' parent company, Univenture, Inc., was started 23 years ago and makes different types of plastic packaging and storage products. About three years ago, Algaeventure Systems was formed as an off-shoot of Univenture. The company's goal is to use algae instead of petroleum to make bioplastics.
Algaeventure grows algae in containment structures for research and development purposes to improve algae extraction, separation practices and processing and to look into products they might potentially produce.
There are three types of algae: diatom, green and blue-green, more accurately referred to as cyanobacteria. Diatom and green algae are good because they feed animals in the food web and do not produce toxins. Blue-green algae evolved 4 billion years ago with other algae, but it produces toxins to "prevent themselves from being eaten," Youngs said.
The company recently opened a small office on West Bank Road on Grand Lake, which may become a small lab this winter, said Chad Hummell, Algaeventure's manager of government, industries and collaborations. For its latest research, the company is collaborating with Edison Materials Technology Center, the Ohio Aerospace Institute of Cleveland and the Center for Innovative Food Technology, Youngs said.