Wednesday, November 3rd, 2010
Problems delay results
Mercer County board counting past 2 a.m.
By William Kincaid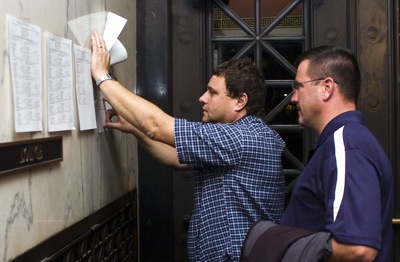 Election results in Mercer County were significantly delayed Tuesday due to two problems with voting equipment, according to board of elections director Deb Sneddon.
Several spectators - mostly interested in the Celina income tax levy - waited in the foyer of the courthouse until early this morning for results. Final numbers for Celina were available about 1 a.m.; however, it was nearly 2:30 a.m. until final voting results for all 38 precincts in the county were posted.
Sneddon said a memory card containing voting results from one of the three optical scanning machines at the Galleria in Celina failed to upload. She said officials were able to print out a report and then manually record those results.
Another delay was caused when a memory card with voting results was left in one of the machines at Fort Recovery Middle School. Mercer County Sheriff Jeff Grey transported Sneddon and deputy director Laura Bruns to the school to retrieve the card. They did not return to the courthouse until about 1:50 a.m.
Grey said the board of elections has certain powers on Election Day and can make requests of the sheriff's department.
Sneddon said all ballots will be rescanned for the official count. Boards of elections must complete the official vote count no later than 21 days after the election. There are 147 outstanding absentee votes and 678 provisional ballots that will be included in the official count.
Voter turnout in Mercer County was 55.56 percent, as 15,925 of the 28,665 registered voters in the county participated in the election, said Toni Slusser, a member of the Mercer County Board of Elections
"Mercer County was the 10th highest in percentage of voter turnout (in Ohio)," Slusser wrote in an e-mail this morning.
Ohio voter turnout lagged when compared to the 2008 presidential election and the last governor's race in 2006. The state's turnout was 48.7 percent, down from nearly 70 percent in 2008 and 56 percent in 2006, according to the Ohio Secretary of State's office.
Auglaize County Board of Elections Director Carolyn Campbell said voter turnout was 50 percent, close to what it was during the last governor's race and close to the 53 percent the board predicted.
She said although Election Day ran smoothly throughout the county, the board of elections office received a lot of provisional ballots from voters with address changes.
"A lot of people who haven't voted in recent elections and didn't report their change of address needed help in finding where to go," Campbell said.
The small group of people waiting for final results Tuesday night at Wapakoneta's administration building waited until about 9:30 p.m. Campbell said they had everything wrapped up by about 10 p.m.
- Daily Standard reporter Amy Kronenberger contributed to this story.