Wednesday, November 3rd, 2010
Coldwater brother and sister ready for run at state
By Gary R. Rasberry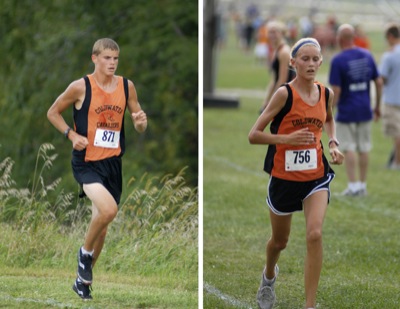 COLDWATER - For brother and sister Mike and Christina Seas, running seems as natural as breathing.
Mike, a junior, and Christina, a freshman, will both represent Coldwater at the state cross country meet on Saturday at Scioto Downs in Columbus.
For Mike, it will be his second straight trip to Columbus after placing 15th last year, while Christina will get her first chance to run as the Coldwater girls team qualified for the state meet.
For the two, running has been a big part of their lives. Their mother, Lorna (Eyink) Seas, was a standout runner for Celina, earning a spot in the Celina Athletic Hall of Fame as part of the 1982 state championship 3,200-meter relay before running at the collegiate level. Father Rich Seas, the Superintendent of Coldwater schools and a St. Marys Memorial graduate, also is an avid runner.
"My seventh-grade year when I first went out for school sports, I tried football. My parents wanted me to try football, so I wouldn't have any regrets. But I guess I always knew that I would be a runner," said Mike. "Because of what my parents have done in their careers as runners. I like the sport, I like the competition. I like to be faster. I'd like to get faster and stronger. I like to run."
"I always saw that my mom ran, and it looked fun," said Christina. "When we were young, we would race around the yard. That was fun. I just always wanted to be a runner."
And like many siblings, there is a bit of rivalry when they run, although Mike stresses it's more motivation than anything else
"There's a little friendly competition," said Mike. "Sometimes we'll get on each other if I have a good race or she has a good race. We'll get on each other, jokingly. We do try to best each other. It's not intense competition, it's more of cheering."
There has been plenty of success from the Seas siblings in cross country. Both earned All-Midwest Athletic Conference honors and at the Ottawa District meet, both won their district races.
"I'm proud of my sister. She's doing really well," said Mike. "My parents are proud of her. I think they're proud of all of us. They don't necessarily push us to run, but I guess hopefully my siblings will see the success my sister and I have had and go toward the sport."
Wherever they compete, the pair have plenty of support. Mike and Christina are part of a family which includes 11 brothers and sisters, and the entire family is there in force to cheer for them and the rest of the Cavaliers at all the meets.
Mike's opportunity to go to state last year became a bit of a motivator for Christina, who was in eighth grade.
"Seeing Mike (and) watching everyone run kind of got me excited to do it (the) next year," said Christina. "I wanted to go to the state meet and actually run it."
This year, Christina will be cheering Mike on again when he runs in the Division III race at 11:05 a.m. on Saturday at Scioto Downs.
"It's going to be fun to cheer him on. It's exciting," said Christina. "I want to see how well he can do, see if he can get into the top 15. It will be fun to watch."
Then, at 2:05 p.m., it will be Mike's turn to do the cheering, as Christina and the rest of the Lady Cavaliers compete in the Division II state race.
"It's really nice. Not many people get to do that," said Mike. "To be part of a family that can say 'Yeah, we have two kids at the state meet.' I can't say anything other than I'm proud of my sister and what she has accomplished. It is nice. You can go out there after you're done racing and (say) "Look! That's my sister. She's running in the state race.' "