Thursday, November 4th, 2010
Scars of domestic violence
Entire families often bear physical, emotional wounds from abusers
By Nancy Allen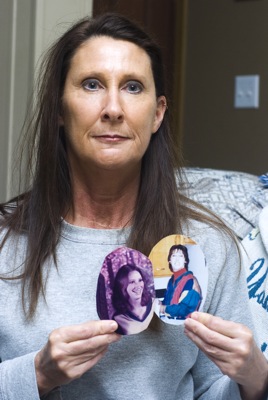 The news last week that a Celina woman was shot to death by her estranged husband reopened emotional wounds in Barb Miller.
Though it's been 12 years since her sister, Teresa "Teri" (Hasenjager) Mitchell was killed by her abusive husband in Riverside, it seems like just yesterday, said Miller of Celina.
Like April Vann, who died in her Elm Street home last week, Miller's sister had three children when she died. The two women also were close in age - Vann was 33, Mitchell, 36.
Vann's husband, Eric, committed suicide in the same room he shot his wife. Mitchell's husband is serving a 30-year prison sentence for slitting her throat in front of her 9-year-old daughter. Mitchell's 12- and 15-year-old boys did not witness the attack.
Miller said the emotional and psychological scars created by the violent act touched too many people to count.
"It affected our whole family," Miller said sobbing. "I drank all the time so I could cry 'cause that was the only time I'd let my guard down ... It went on for two years."
Mitchell's daughter was hospitalized again two years ago to help her deal with the lingering trauma. One of Mitchell's sons has tried to commit suicide, Miller said. No one in her family is the same since the tragedy, she said.
Miller said she still feels guilt for having "let her sister down," even though she knows it wasn't her actions that took her sister's life.
Looking back, Miller said there were signs something wasn't right after her sister, formerly of Coldwater, married her second husband, Oscar Mitchell. Once bubbly and confident, she became anxious and withdrawn. She started dressing dowdy. Her husband monitored her phone conversations and controlled where she went and what she wore.
The need to maintain control over their victims is at the core of abusers, said licensed social worker Wally Ellinger, who facilitates the court-ordered program Phoenix Domestic Abuse Intervention Project for abusers. The program is run out of Gateway Outreach Center in Celina and gives abusers skills to change. The program also takes those who voluntarily sign up.
Ellinger said abusers use numerous maneuvers to control their victims.
"They (actions) vary from outright intimidation and violence to making threats and gestures like smashing things against the wall. Some (men) don't want their wives to work," he said. "The isolation usually starts very slowly."
It's important for victims to know that the abuser needs help and won't stop on his own, said Ellinger, who was a director of Celina's Family Crisis Network in the 1990s. Typically the abuse will continue to get worse, he said, even though the abuser apologizes and promises it will never happen again.
"Often when women would come in, you'd look them in the eye and there was nothing there anymore," he said, remembering former clients at the crisis center. "They are convinced they are stupid, a bad parent and no one else would want them."
Another similarity between Mitchell and Vann is both women were trying to leave their marriages. Just before Vann's death, she had filed for separation and there was a No Contact Order in place against her husband. Mitchell had filed divorce paperwork and was killed just days before her husband was to appear in court for sentencing on domestic violence charges. He was out of jail on bond after being arrested for threatening to kill her.
Statistics show the most dangerous time for a victim is when she is trying to leave her abuser, said Chiara Cameron, domestic violence outreach coordinator at Family Crisis Network.
"It's because many times it's the first time they're asserting their beliefs and saying, 'I'm going to put my needs before yours,' " Cameron said. "And some (abusers) adopt the attitude that 'if I can't have you, no one can have you.' "
Celina police department statistics show that during the last six years, the number of domestic violence arrests and disputes that did not result in arrests ranged between a high of 91 arrests and 138 disputes in 2005 to a low of 63 arrests and 75 disputes in 2007. This year, Celina police have made 67 domestic violence arrests and handled 121 disputes.
Ohio law mandates police make an arrest if there is any sign of physical violence, Celina dispatcher Angie Ewing said, adding disputes are typically verbal.
"Domestic disputes are just as dangerous for police as domestic violence calls, because you never know what situation they're going into," Ewing said. "Just about all domestic violence where someone is physically harmed starts out as a (verbal) dispute."
Cameron said it's important for victims to have a safety plan; a way to escape at any given time. Family Crisis Network helps clients craft that plan.
"Even if you're going to stay, you need a plan to keep you and your children safe," she said, sitting in her Celina office on West Fayette Street.
The first step victims need to take is to tell someone they trust who will support them, experts agree.
And most importantly, if someone confides in you listen to that person, Miller said.
"They need someone to listen and let them talk," Miller said. "They need to hear that you love them and will be there for them no matter what and don't judge them."
Domestic violence needs to be brought out into the open, she said, noting that many people find it too uncomfortable to talk about.
She also bristles at people who criticize victims for staying in abusive relationships. It's not so simple when your abuser threatens to kill you if you do, she said. That's what her sister's husband said, and he followed through with the threat.
Miller said she hopes sharing her sister's story inspires other women to get help.
"I don't want any women to have to do what my sister did to get what was really hers all along, her freedom," Miller said. "She died for her freedom."

Where to get help:
One in four women will be a victim of domestic violence, statistics from the National Coalition Against Domestic Violence show. Statistics also show the most dangerous time for victim is when they are trying to leave their abuser.

Create a safety plan
• Make a plan for how and to where you will escape, quickly if necessary.
• Put aside emergency money.
• Hide an extra set of car keys.
• Pack an extra set of clothes for yourself and your children and store them at a trusted friend or neighbor's house or safe hiding place.
• Take with you phone numbers of friends, relatives, doctors, schools, a driver's license, medication, credit cards or a list of credit cards you hold yourself or jointly, pay stubs, yours and your children's birth certificates, checkbook and information about bank accounts and other assets.
• Have a signal or code word you can give to friends or family to let them know you are in danger, such as turning a light on outside your house.
• Request a police stand-by or escort while you leave.

Where to get help
• Family Crisis Network, Celina
419-586-1133 (24-hour hotline)
www.mercercountyfcn.blogspot.com
• National Coalition Against Domestic
Violence
1-800-799-7233 (SAFE) or 1-800-
787-3224 (24-hour hotline)\
http://www.ncadv.org/

Tactics abusers use:
• Coercion and threats such as making and/or carrying out threats to hurt the victim, threatening to leave, commit suicide or report the victim to welfare.
• Intimidation by making the victim afraid through looks, actions and gestures such as beating and sexual assault, destroying property, abusing pets and displaying weapons.
• Emotional abuse via name-calling and humiliation, making the victim feel guilty or crazy.
• Isolation from family and friends by controlling the victim's actions, communications and where he or she goes.
• Minimizing and denying the abuse or blaming the victim for it.
• Using children to make the victim feel guilty or threatening to take away children.
• Using male privilege to justify actions.
• Making the victim financially dependent by preventing him or her from getting or keeping a job, taking money or not allowing access to money.
- Source: Domestic Abuse Intervention Project, Duluth, Minn.