Thursday, November 4th, 2010
Bruins shut down Bulldogs in semifinals
Division II Volleyball Regional Semifinals
By Ryan Hines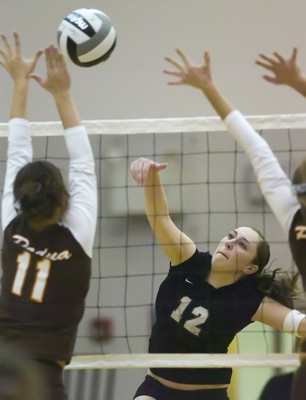 ONTARIO - For the fifth straight season, the Ontario Regional marks the end of the postseason for the Celina volleyball team.
Parma Padua Franciscan has its eye on a second straight Division II state championship after knocking off Celina - 25-22, 25-14 and 25-15 - in the regional semifinals on Wednesday night at Ontario High School.
Reaching the regional tournament hasn't been a problem for Celina, but winning at Ontario has been difficult, and Bulldogs head coach Carolyn Dammeyer can't explain why.
"One of these times it has to be our turn. We have come here several times and not played our best and see our season end here. It's just so frustrating," said Dammeyer. "I don't know what it is. We played somewhat good in the first game, but they took it to us in the final two games."
Bulldogs' three-year starter Erin Dorsten doesn't have an answer either.
"I wish I had some idea of what it is about this place, where we don't play the way we play the whole year," said Dorsten. "I honestly don't know, but it's upsetting to have it all end here again. We didn't play the way that we are capable of playing."
Celina's margin for error against the defending D-II champs was very small, and the Bulldogs (21-6) weren't at their best.
Parma Padua's serving caused Celina fits all night long as the Lady Bruins aced the Bulldogs 13 times in the three games.
"They served aggressively and we really struggled to control the ball, and because of that, we weren't able to set up our offense like we would have liked," said Dammeyer. "It wasn't just one person struggling; several of our girls had trouble getting into position and making a good pass."
The success behind the service line was a welcomed sight for Parma Padua head coach Anthony Messina, who watched his team commit 17 service errors in the district final.
"We really struggled with our serving in the district final, but we worked pretty hard on it this week and the girls did a good job of taking the hard work in practice and carrying it over to the game tonight," said Messina. "Our scouting showed they struggled a little in serve receive at times and we tried to attack it. We knew they had great middles, and when they could run their offense, it was tough to stop; so we tried to use our serve to slow down their offense."
It was a back-and-forth affair in the first game as the lead changed hands five different times, but it was the service game of Parma Padua that made the difference.
The Lady Bruins had six aces in the first game alone, two of which helped Parma Padua rally from a 14-10 deficit. Mary Djukic's lethal jump serve led to a pair of aces that sparked an eight-point Parma Padua run which put the Lady Bruins in control at 18-14.
Parma Padua pushed its lead to as much as six points at 24-18, before Lizz Carr helped lead Celina to a late rally. Carr had a stuff block and a kill while Sara Homan added a kill to spark a four-point swing that made the score 24-22. The Bruins ended game one when Nicole Trapp spiked one past the Celina back row for the game-winning kill.
The rest of the match was all Parma Padua as Celina never led in the final two games and continued to struggle with serve receive.
Carly Molls opened game two for Parma Padua with back-to-back aces and the Bruins were up 5-0 before Celina had to call timeout. Celina's inability to consistently serve receive continued to give Parma Padua free balls and the talented Bruins' hitting arsenal of Tabitha Meeks, Becky Jay, Djukic, Trapp and Molls took turns with kills. Meeks and Molls combined for seven kills in game two as the Bruins coasted to a 25-14 win.
Kills from Dorsten and Morgan Weininger helped Celina keep it close early on in game three as the Bulldogs tied the game on three different occasions before Parma Padua took control. The Bruins led 10-9 before a Molls ace and two Celina hitting errors put Parma Padua on top 14-9. Parma Padua then won six of the next eight points, highlighted by a couple of thunderous kills from Trapp, and suddenly the Bruins held a commanding 20-11 advantage. Celina never got closer than seven points the rest of the way.
"It never feels good to lose, but we lost and didn't play to our potential and that is tough to accept considering the great year that these girls had," said Dammeyer. "We won the WBL (Western Buckeye League) again and had a nice run in the tournament. There's a lot for these girls to be proud of. 21-6 is nothing to frown on."