Monday, November 8th, 2010
Couple found dead at fire
Cause of blaze near Neptune undetermined
By Margie Wuebker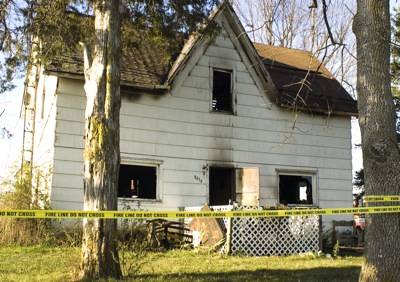 NEPTUNE - Two people were found dead early this morning after fire destroyed their two-story house at 8254 U.S. 33.
Relatives confirmed their identities as Jamison D. Godfrey, 34, and his wife of two years, 27-year-old Jessica. Investigators from the Ohio State Fire Marshal's Office and representatives of the Celina Fire Department remained on the scene at press time today.
A passing truck driver reportedly called Mercer County 911 shortly after 1 a.m. to report flames coming from the rear of the home. A Rockford unit from Mercer County Emergency Medical Services also spotted flames while returning from a run to Joint Township District Memorial Hospital in St. Marys.
Lt. Jon Schumm of the Celina Fire Department told The Daily Standard the rear of the home was fully engulfed when firefighters from Celina, St. Marys City and Mendon fire departments arrived on the scene. They found heavy smoke and heat damage in the front portion of the home.
Carl Fly of St. Marys, who owns the home, drove to the scene after receiving a call from a neighbor about 1:30 a.m.
"Everyone was in shock and disbelief," he said. "Jamie was my nephew and he was a good kid who treated me well."
His voice cracked as he recalled how the couple and family members worked to spruce up the house with new paint, carpeting and fixtures. They moved into the home a few months ago.
Initially, firefighters searched for the Godfrey's 7-month-old son, Preston. They later learned that he had spent the night with Jessica's mother, Jody Reynolds, in St. Marys.
"Jessica was not feeling well Sunday due to the flu," Reynolds said this morning. "I went out there about 7 last night to get more diapers and formula. Jessica was going to bed and hopefully get rid of the bug. Both of them thought taking the baby home was a good idea."
"I thank God I have him and he is safe," Reynolds said of her grandson.
She described her daughter as "a good, loving, kind and caring person who loved little Preston with all her heart."
Schumm said the department is required to call in the state fire marshal's office when there is a loss of life.
The Mercer County Sheriff's Office responded to the scene with deputies and Mercer County Emergency Response Team members directing traffic throughout the night. Sheriff Jeff Grey this morning said his department will only become involved upon request and in the event investigators find something suspicious.
It was the first fatal fire in the department's jurisdiction since two children died Nov. 7, 2001, in a blaze at Grand Manor Trailer Court near Celina.