Monday, November 8th, 2010
Flyers eliminated in regional finals
Division IV Regional Volleyball at Liberty-Benton
By Randy Bruns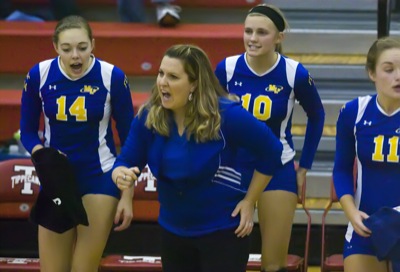 TIPP CITY - It's been said that all good things must come to an end, but on Saturday, a great thing came to a sad conclusion in the Division IV regional final at Tipp City Tippecanoe High School.
The Marion Local Flyers were denied a chance to compete for their fourth straight state championship after the Lehman Cavaliers handed them a convincing three-set loss by scores of 25-23, 25-21 and 25-20.
The loss finishes Marion's spectacular season with a 25-2 record, but the seven seniors on the squad have built a legacy that will live on much longer than the memory of this painful loss. Over the past four seasons the Flyers compiled an amazing 107-6 record, including 25 consecutive tournament wins, three Midwest Athletic Conference championships and three state titles.
Saturday wasn't the Flyers' day, however, thanks mainly to an aggressive and opportunistic squad from Lehman. The Cavaliers' only loss on the year was to the Flyers on Aug. 31, but it was clear that they knew they could upend the state's number-one ranked team.
The Cavaliers made a statement early in the first set when they charged out to a 9-3 advantage. The Flyers slowly chipped away at their deficit, however, and finally tied the score at 13-apiece when setter Stacey Huber dumped one over the net. From there it was a battle of wills, with seven straight ties keeping the atmosphere at a fever pitch.
Lehman finally pulled in front by three at 23-20, but kills by Kelly Schlarman and Alyssa Winner brought Marion back within one. After the teams exchanged kills, Lehman took the one-set lead when Ann Watercutter placed a kill right on the sideline.
The Flyers took an early 3-0 lead in the second set, but the Cavs quickly tied the score and later went ahead 13-8 after four straight winners from Morgan Schmitmeyer that included a pair of aces. The Flyers slowly crept back in the game and pulled to within two at 20-18 after another dump by Huber and a hitting error by the Cavaliers, but Watercutter batted a kill and Schmitmeyer scored another ace. The Flyers could pull no closer than three points the rest of the way and found themselves down two sets for the first time all year.
Marion looked ready to rebound in the third set when three kills by Winner led to an early 5-1 advantage. Lehman took the momentum right back, though, when Watercutter served up six straight winners to give her team an 8-5 edge. Marion put up a valiant effort and later tied the game at 11-apiece, but Lehman got another long service run by Watercutter to take a commanding 19-13 lead. A 5-1 run got Marion back into the set at 20-18, but Lehman proved to be too much to handle and finally took the match after a kill by Schmitmeyer and a Marion hitting error.
"We got outcoached and outplayed, and we just couldn't get anything going," said a downcast Marion coach Amy Steininger. "We were fighting from behind in all three sets today and just couldn't get over the hump. Lehman is an excellent team and they're very well-coached. They just picked us apart today. They found all our weaknesses and they hit them consistently."
Lehman coach Greg Snipes, who saw his team lose to the Flyers in last year's regional finals, thought that the Cavaliers played almost as well as they could have.
"Except for a couple balls that fell in the middle, I thought we got a touch on every ball that we were in position to make a play on," said Snipes. "We had seen that at times this year but that was one of the first times that we'd seen it from point one all the way through the end. We lost to them early in the season but we went in with confidence. We expected to play with them and we expected to go to state.
"Give Marion Local and Amy all the credit in the world," continued Snipes. "To be there and win it three years in a row is something to say about the players and the program."
Steininger had plenty to say about the seniors, whose incredible run came to an abrupt end.
"I can't help but feel a huge sense of pride for these girls and what they've accomplished these past three years," stated Steininger. "I told them they have a ton of trophies and medals and pictures in their living rooms, and they'll look back on it and appreciate what they've done. We're just so proud of them and thankful for all of the memories that they've given to the community."