Friday, November 12th, 2010
Local developer plans digester
Celina, Florida businessmen want to build separate facilities
By William Kincaid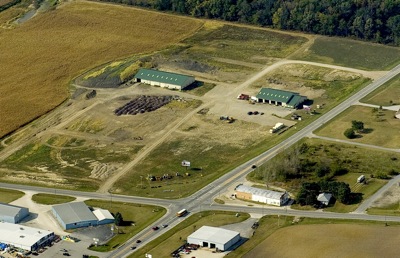 Farmers may have two places to take their livestock manure in the future if proposals for separate digester plants come to fruition.
Local developer Steve Klosterman is the next entrant in the renewable energy game. He intends to build an anaerobic manure digester on his property at 4696 U.S. Route 127.
Florida businessman Andy Tangeman in August said his company, Optional Energy Partners, planned to construct a manure digester near Celina. He said Thursday those plans are still on the table.
The Mercer County Regional Planning Commission will review Klosterman's application to rezone 10 acres of his land from agricultural to industrial - the necessary classification for a digester plant - at its meeting 7 p.m. Wednesday at the Central Service Building, 220 W. Livingston St., Celina.
"Well, I've been trying to do something to help clean up the lake," Klosterman told the newspaper this morning, adding that a majority of his work is centered around the body of water.
Klosterman said he intends to partner with Quasar Energy Group of Cleveland to build an anaerobic digester to help reduce the nutrient load on the farmland in the 98,000-acre Grand Lake watershed.
"We are working on the grants, loans, utility hookups and all of the other necessary items which need to be addressed before a project of this magnitude gets started," Klosterman wrote in an e-mail to the newspaper.
According to Klosterman, the plant would convert manure and food waste into methane gas to produce electricity. He did not know how many megawatts of power it would generate.
Klosterman said he is talking with officials from DP&L, Midwest Electricity and the city of Celina about purchasing the electricity the plant would produce.
Klosterman said he would pay to install transmission lines to the appropriate power grid.
Celina Planning and Community Development Director Kent Bryan said the city is aware of Klosterman's plans.
"He has talked to me about whether we would negotiate buying power from him," Bryan said. "I indicated we would sit down to negotiate what the price would be."
However, similar to the recently-proposed solar energy plant by Solar Vision LLC of Westerville, the city would not finance the project, Bryan said.
"We're not going to run lines out there," he said. "He would have to do that as part of his project."
Klosterman said Quasar indicated a digester plant would take six months to construct. He said the plant would require many construction workers during its creation, as well as one full-time manager once operations begin.
Klosterman and Quasar would jointly own the project, he said.
Ideally, farmers would take their manure to the plant, Klosterman said.
"We're working that out now," he said, adding that he has talked with quite a few farmers who have shown interest.
The operation must be cost-effective for everyone involved, he explained.
"A lot of the small farmers need a place to get rid of their manure," he said. "Overall, just whatever we can do to help get the lake cleaned up."
Toxic blue-green algae problems led to a state advisory and practically shut down Grand Lake this summer. The algae feeds off phosphorous which primarily runs off farmland, which comprises more than 80 percent of acreage in the watershed.
Butler Township Zoning Inspector Gary Gaerke said the Mercer County Regional Planning Commission likely will make a recommendation on Klosterman's application Wednesday. That recommendation will be forwarded to the Butler Township Zoning Commission. The Butler Township Trustees will have the final say, Gaerke said.