Friday, November 12th, 2010
End of the line: Fenwick knocks off Parkway in hard-fought four-set win
Division III Volleyball State Semifinals
By Gary R. Rasberry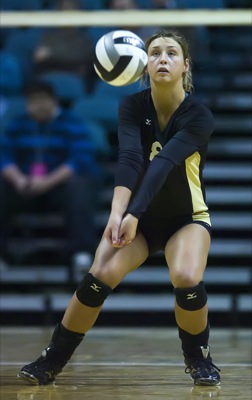 FAIRBORN - A valiant effort by the Parkway volleyball team fell just short as the Panthers saw their season end at the hands of Middletown Bishop Fenwick.
Fenwick won a hard-fought four-set match in the Division III state semifinals at the Ervin J. Nutter Center on the campus of Wright State University on Thursday night.
The Falcons take a 27-1 record, and a 21-match winning streak, into Saturday's state championship contest against 24-4 Gilmour Academy at approximately 1 p.m. Gilmour Academy defeated previously unbeaten Tuscawaras Valley in three sets in the other Division III semifinal.
Parkway, making its first state final-four appearance since 2005, ends its season at 22-6.
All four sets - with scores of 25-22, 23-25, 25-23 and 25-20 in favor of Fenwick - were competitive and never decided until the very end.
"It was a heckuva match," said Parkway coach Jeff Marbaugh. "Both teams battled. Great plays were being made. Heckuva high school volleyball match today."
Fenwick jumped out early in the first set thanks to some quick-set attacks. All-Ohioan Alyssa Beck and teammate Kristen Thompson were tough to contain as the Falcons jumped to a 20-14 lead.
Parkway countered with kills from all-staters Emily Crowell and Kelsey Bates along with Haley Burtch to close the gap to 22-20 before the Falcons took the opening set.
The Panthers did not give Fenwick an easy pass to Saturday as Burtch and Bates put on a hitting clinic in the second set. Bates had six kills with Burtch adding four of her own as the Panthers had their best attacking set of the night. Parkway made just one attack error in the set with a .361 attack percentage (14 kills in 36 attacks) to hold off Fenwick 25-23 and tie the match.
The Panthers rode the momentum the third set as Fenwick made several hitting errors in a row that put Parkway up 13-9. After Fenwick called timeout, the Falcons rallied to tie the match at 14-all as Jessica Levy served up an ace and Casey Volz had a pair of kills to go along with a Parkway hitting error.
Fenwick was up 21-17 when Parkway tried to grab back the momentum. Bates, who had eight kills in the set, gave Parkway its final lead at 23-22 before Thompson tied the set with a kill and Cayla Quallen tallied an ace to get to set point. Thompson then got a kill for a 25-23 win that put the Falcons up 2-1 in the match.
"We started finally finding a little bit of rhythm in offense," said Fenwick coach Yoon Ha. "I think we were trying to go outside a lot. What we started to do is force it to the middle, and then really changing the flow of the offense on the right side. That's what helped.
"All I said (during the timeout) was 'Guys, we wanted to be here. We've got to start playing.' "
"We were up and let them back in," said Marbaugh. "That third game was very important. We let them get back into it."
The momentum from the Falcon rally continued in the fourth set as Fenwick jumped out to a 5-2 lead and pushed the lead to 19-11 as Parkway had trouble receiving serves. Fenwick out-aced the Panthers 12-0 in the match.
"I would say probably the difference in the match was they serve-received better than we serve-received," said Marbaugh. "I thought we had some aggressive serving, got the ball up and made some things happen. I just thought we gave them too many points off us."
Parkway, down 22-14, staged a late comeback. Crowell and Bailey King got kills to cut the Fenwick lead to 22-18. Parkway got as close as 23-20, but an attack error gave Fenwick match point and Volz got a kill to end it.
"We came here to win and it just didn't happen today," said Marbaugh. "We talked every game and practice. It's all about making plays. (Fenwick) made just a few more than we did today."
Bates, on her way to Syracuse to play volleyball, ends her career with a dominating night, recording 22 kills while Crowell added 12 kills and 18 digs. Haley Roehm had 28 assists with Morgan Cron adding 18 assists.
"We really wanted it this season. We just worked really hard," said Bates. "... Our passing was off tonight. We wanted it. It just didn't work for us tonight."
Thompson had 19 kills for the Falcons while Beck added 18 kills.