Wednesday, November 17th, 2010
Ag jobs priority for Zehringer as state director
By William Kincaid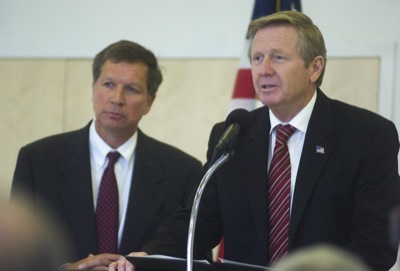 State Rep. Jim Zehringer, R-Fort Recovery, said he would leverage all resources and protect the jobs of agriculture - the key to Ohio's economic future - in his new role as the director of the Ohio Department of Agriculture.
Zehringer was appointed to the post by Gov.-elect John Kasich during a press conference late Tuesday morning at Wright State University-Lake Campus.
Zehringer said as a farmer he recognizes the challenges of agriculture; as a lawmaker, he recognizes the importance of clean land, air and water. He said he looks forward to working with all 88 counties and boasted how millions of people eat wholesome food produced daily in Ohio.
Zehringer - who also spoke of Kasich's intent to get rid of the state inheritance tax - said he shares the governor-elect's vision of growing Ohio.
Kasich said he grew fond of Zehringer during his campaign and said the Fort Recovery High School graduate is a leader who also possesses a softness and understanding. He said Zehringer will be one of his personal advisers.
"(He) just has such a good heart and such a good brain," Kasich said.
Kasich talked about restoring the greatness of Grand Lake and its economy.
He praised the efforts of local lake activists but added that nothing happens over night. Zehringer will be critical in navigating those challenges, Kasich said.
Asked by a reporter about future budget cuts to the agricultural department, Zehringer said he did not know specific amounts yet but added that he knows he willhave to make reductions.
The ODA director creates and enforces regulations concerning: consumer and farmer protection, conduct of county and independent fairs, food safety, herd and flock health and protection of plants from pests.
As ODA director, Zehringer also becomes chairman of the Ohio Livestock Care Standards Board. The board was formed after Ohio voters a year ago approved a constitutional amendment (Issue 2) to establish livestock care standards that will take into account factors such as the protection of safe, local food supplies and accepted veterinary practices. Farmers who violate the rules will face civil penalties.
Darke County hog farmer Jeff Wuebker is a member of the board and has known Zehringer for 16 years.
"There's no harder working people than the American farmer and there's no harder working person than the many western Ohio farmers who take care of their livestock like Jim did for many years," Wuebker said.
Zehringer, 58, formerly owned and operated Meiring Poultry and Fish Farm before selling it to his nephew. Wuebker noted there are 80 state-permitted poultry farms in Ohio, one of which is the Meiring operation.
"Knowing the importance of doing things right and how that affects western Ohio and Ohio agriculture is so important," Wuebker said. "Bringing that attitude to Reynoldsburg (ODA office) is important for all of Ohio."
Zehringer will replace current ODA director Robert J. Boggs, who was selected for the post in 2007 by Gov. Ted Strickland.
Kasich said he is excited that Zehringer - whom he referred to as his own personal JZ - will be in a position to travel to schools to tout agriculture as something cool and move it into the 21 century.
Zehringer is serving his second term in the Ohio House of Representatives - representing the 77th District - after receiving his initial appointment to fill the seat left vacant by Keith Faber in February 2007. The district consists of all of Mercer and Preble counties and a portion of Darke County.