Saturday, November 20th, 2010
Celina man gets 8 years
Adam Hanna guilty of burglary, intimidation
By Margie Wuebker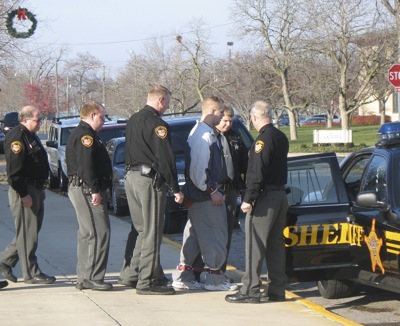 Heavy security was in place Friday morning in Mercer County Common Pleas Court for the sentencing of a 28-year-old Celina man guilty of burglary and intimidation.
Adam M. Hanna, a former West Fayette Street resident, showed no emotion when Judge Jeffrey Ingraham imposed eight years in prison and turned down a request for a 48-hour furlough before immediate transfer to the Ohio Department of Rehabilitation and Corrections (ODRC).
Court-appointed attorney Donna Post asked Ingraham to consider community control sanctions (CCS) that would allow her client to complete counseling for his drug problems and find employment to support his three children. In the event of incarceration, she asked that the terms run concurrently rather than consecutively.
Hanna, who told the judge he has used heroin as well as other drugs, said "I've been incarcerated before and it never helped. I think it made me worse. I do feel community control would help me."
He cited a need to pack his belongings at the home of a friend in Coldwater as the reason for the furlough request.
Mercer County Assistant Prosecutor Matt Fox stated a furlough was inappropriate, citing Hanna's lengthy criminal history. He was equally vocal about the matter of CCS.
"In my opinion, the court's adult probation department does not have the services Mr. Hanna needs," he said. "Probation would be a fruitless option."
Fox pointed out the state completely dismissed one case during plea negotiations. The charges - possessing a deadly weapon while under detention, vandalism and obstructing official business - stem from an Aug. 15 incident at the Mercer County Adult Detention Facility. He reportedly removed metal from a shower door lock and sharpened the edge by scraping it repeatedly against a cell wall.
Ingraham imposed consecutive 16-month prison sentences on each of the three burglary charges along with $1,600 in restitution. He granted Hanna credit for 150 days served during pendency of the case. He also ordered a four-year sentence on the intimidation charge with credit for 10 days served. The third-degree felony also carries a mandatory three years of post-release control.
The burglary charges, all fourth-degree felonies, stem from incidents earlier in the year at the Center Township home of a couple who befriended him. He entered their residence several times and reportedly took cash and prescription medication. Relatives set up a surveillance camera to identify the culprit and the footage reportedly showed Hanna. The intimidation charge relates to a Sept. 21 incident in Celina Municipal Court when Hanna was seen mouthing a threat to a fellow inmate scheduled to testify in a criminal matter.
Seven deputies escorted the defendant from the courtroom, taking care to steer the procession away from the third-floor railing, which he attempted to jump over during another case several years ago. They also stood with him until a cruiser arrived for the trip to the Correctional Reception Center in Orient.
"I think this is the most security assigned to any one prisoner," Mercer County Sheriff Jeff Grey explained. "We often assign multiple deputies in high-risk or high-profile cases to control spectators, but that was not the case Friday. People don't realize the problems we've had with Adam. We used four deputies when moving him at the jail and that is a secure environment."
Grey added it is difficult controlling someone who shows little concern about hurting himself or anyone else. During pendency of court proceedings, Hanna was transported by ambulance on multiple occasions after he banged his head against the wall.