Saturday, November 20th, 2010
Lehman ends Minster's late season charge
Division VI Region 24 Final
By Gary R. Rasberry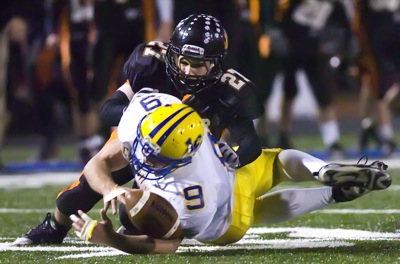 PIQUA - Minster's hopes to avenge a regular -season loss for a second straight week faltered on Friday night.
Lehman Catholic tallied over 400 yards of offense in capturing the Division VI Region 24 title with a 27-14 win over the Wildcats at Alexander Stadium in Piqua.
The Cavaliers (12-1) face Delphos St. John's at a site to be determined next Friday night for a berth in the Division VI state championship game in Canton.
The Wildcats, who started the season 0-4, then won seven of their next eight games, end the season at 7-6, making their first trip to the regional final since 1996.
"I'm so proud of our kids and our senior class," said Minster coach Nate Moore. "The way they fought out there today, we had a couple opportunities. You have to give all the credit to Lehman Catholic. They have a great football team. It came down to a couple of big plays against us in the first half. We had some opportunities on offense that we couldn't quite punch it in."
Lehman won the first meeting in week two 34-13. Cavaliers' coach Richard Roll admitted he was concerned about facing the Wildcats a second time, especially since Minster beat Marion Local 30-26 last week to avenge their Week Four loss to the Flyers.
"We were scared. I'm not beating around the bush," said Roll. "... I didn't want to play them. I really didn't. Last week, you root for them. And then, you know, if they lose, you have to play Marion. if they win, you have to play these guys (Minster)."
Minster got the game going with a 13-play opening drive that went 77 yards and took up nearly half of the opening quarter. Twice Minster quarterback Chase Paxson converted third-down plays with passes, before getting the scoring underway with a three-yard pass to Mitchel Poeppelman.
Lehman came right back, relying on the legs of running back Kaleb Goins. The senior carried the ball five times in the drive for 50 yards, 29 coming on the run to the end zone to tie the game with just 3:29 left in the first quarter.
Minster, after the opening long drive, went three-and-out on its next series, then stalled out a seven-play drive with a pooch punt that put the ball on the Lehman 16.
This time, it was quarterback Jonathan Slagle coming up with the big play, finding a wide-open Evan Goffena for a 62-yard touchdown through the air that gave Lehman the lead for good with 7:36 left in the first half.
"We started making plays in the secondary," said Roll. "We said all week our secondary had to play well. We started looping some our linemen and getting pressure on them. We started tackling better. They're a very good offensive team. Paxson is a heckuva quarterback. Poeppelman is a heckuva receiver."
"They have good football players over there (and) a good coaching staff," said Moore of Lehman. "... You saw it. They settled into their defense and played well."
The Wildcats looked like they were ready to tie the game, putting together a nearly five minute drive. But on a third-and-eight from the Lehman 23, Paxson looked deep into the end zone, only to have Slagle come up with the interception. Four plays later, Slagle found Nick Cordonnier for a 41-yard pass and a touchdown to give Lehman a 20-7 halftime lead.
The Cavaliers looked ready to blow the game wide open with their opening drive of the second half. Slagle used his legs this time rather than his arm, breaking free for a 59-yard run for six points, with the extra point making the score 27-7.
Minster, though, roared back. Paxson completed two passes for 59 yards before handing off to Adam Kaiser for a one-yard score that cut the Wildcats' deficit to 27-14 with eight minutes left in the third quarter.
From that point on, Lehman's defense took over. Minster stopped Lehman on its next two possessions and forced punts. Minster, however, was unable to convert on its first possession, then Paxson was picked off by Goffena in the end zone after getting the Wildcats down to the Lehman five-yard line.
Minster had one last chance to make it closer after John Tebbe recovered a fumbled pitch at the Lehman 12. Kaiser ran for five yards on the first play, but three straight incompletions gave Lehman the ball with six minutes to go in the game.
Lehman worked the ball on the ground, picking up two big first downs to keep the clock moving. The drive appeared to stall with a third-and-11 from the Lehman 46, but Slagle ran for 10 yards, then Goins, who finished with 161 yards on 23 carries, picked up 12 on a fourth down to allow Lehman to take two knees to end the game.
Slagle had one of his best nights as a quarterback, completing 11-of-15 passing for 164 yards with two touchdowns to go along with 69 yards rushing on five carries.
"This is as well as Jon's throwing the ball in a pressure game," said Roll. "They've had a great week of practice, and that's big. We knew, to get to this step and the next step, we had to be throwing the ball."
Kaiser finished with 82 yards rushing on 21 carries. Paxson was 16-of-28 passing for 170 yards with a touchdown and two interceptions. Derek Collins had four catches for 53 yards.
Moore, finishing his first year as Wildcats coach, was happy to see his team turn it around after an 0-4 start.
"When I think back on the season, I'll think about the people," said Moore. "All the hours with the coaching staff. We have a great group here. The senior class and the adversity they overcame. I just couldn't be prouder.
"They're going to come back to town in 10-15 years. They'll be doctors and lawyers and be very successful people, I hope in part for what they experienced with this program."