Thursday, December 30th, 2010
St. Marys defends tournament crown
Chatt Insurance Holiday Tournament
By Gary R. Rasberry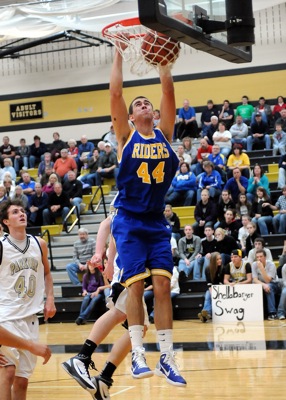 ROCKFORD - For the second straight year, the boys' championship of the Chatt Insurance Holiday Tournament came down to the host Parkway Panthers and St. Marys Roughriders.
And for the second straight year, the big trophy was put on a bus to Auglaize County as the Roughriders won their fourth straight game, 52-45 over the Panthers.
St. Marys is now 4-3 after starting the season 0-3.
The Roughriders had several comfortable leads, but Parkway always seemed to get right back into the game with a run of its own.
St. Marys jumped out to an 8-2 lead, only to have Parkway come back and make it close for the rest of the half, trailing the Roughriders just 22-20 at halftime.
The Panthers kept the momentum up and got the lead at 24-22 when Riley Bransteter hit two of three free throws. St. Marys went in front for good at the 6:26 mark on a Derek Roop bucket. The Roughriders went on runs of 9-0 and 8-0 in the third quarter to push the lead up to 10 points, but Parkway managed to pull its way back on both occasions.
The Panthers had issues trying to slow down the Roughriders' inside game of Roop and J.D. Meyer. The pair combined to go 14-of-23 from the field and totaled 32 points.
"We really had no answer for them," said Hughes. "They did a nice job getting them the basketball, and they finished. I thought we did a pretty good job on the boards; we battled them hard."
"We'd get the ball into J.D. and Derek. I thought they did a nice job," said St. Marys coach Dan Hegemier. "Fourth quarter, I thought Garet (Fledderjohann) handled the point well, but Parkway is pretty good."
Parkway continued to battle, getting as close as two points late in the third quarter. The Panthers found themselves down just 45-42 with 3 1/2 minutes left in the game, but St. Marys hit seven of eight free throws down the stretch to seal the win.
"We answered their runs, but they'd call timeout, and we'd get down again and try to battle back," said Hughes. "Little things. I thought we had decent looks. (In) crucial possessions, we'd miss key shots and free throws."
Roop, who scored 16 points and shared high-game honors with Meyer, was named the tournament's Most Valuable Player for the second straight year after scoring a total of 37 points in the two-game tournament. Joining Roop on the all-tournament team were Meyer, Parkway's Corey Decker and Bransteter (14 points against St. Marys), Riverside's Kyle Hurley and River Valley's Michael Simmons.
CONSOLATION GAME
River Valley 66, Riverside 57
Simmons led River Valley with 18 points and Bo Keener added 14.
Chad Keith led Riverside with 20 points.