Tuesday, January 4th, 2011
Lost calamity days may return under new governor
By Shelley Grieshop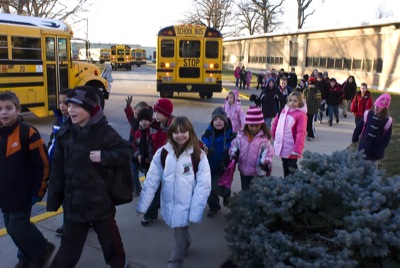 The two calamity days taken from Ohio school districts this year may be restored after Gov.-elect John Kasich steps into office.
Kasich, who will be sworn in Monday, has promised to overturn Gov. Ted Strickland's actions in 2009 that decreased calamity days from five to three for this school year. But implementing the changes for the current school year will require the help of state legislators, Ohio Department of Education (ODE) spokesman Patrick Gallaway explained.
"He (Kasich) would have to use legislative action to do it," he said. "There's lots of speculation about it right now."
If Kasich chooses to delay the addition of the calamity days until the 2011-2012 school year, the issue likely will appear as an amendment to his first budget bill later this year, Gallaway added.
Celina schools is the only area district to already use all three calamity days. If it must close in the coming months, it will be forced to make up the days starting March 7 - currently scheduled as a day off.
Fort Recovery, St. Henry, Marion and New Bremen schools have tapped just one calamity day this school year; Minster schools has yet to utilize its first.
Last year, local schools used the majority of their five-day allotment - and more - between January and the arrival of spring. Celina, Coldwater and Fort Recovery schools closed nine times last year for fog and winter weather, causing students and staff to make up four days.
Celina schools superintendent Matt Miller - like several other superintendents who spoke to The Daily Standard this week - would like to do away with all calamity days.
"I know it's not the popular thing to say, but honestly, I feel like every day missed should be made up," he said.
Miller said he's a hero when he cancels school with calamity days to burn, but is harassed when classes are canceled and days have to be made up. He admits he's conformed to the majority opinion.
"Five days is what people have gotten used to so I guess I'm OK with five," he added.
Fort Recovery school superintendent Pat Niekamp said the calamity day issue has been a topic of discussion by local and state officials for a very long time. He sides with Miller.
"Kids and teachers want to keep the five days, but from my standpoint, I tend to say we should try to get as many school days in as we can," he said. "It's not a popular opinion."
Another option is in the works for schools. Ohio House Bill 407, sponsored by Rep. Jim Zehringer, R-Fort Recovery, was introduced a year ago to allow schools to make up excess calamity days by requiring students to complete lessons online within two weeks after the missed day.
The bill died in Congress - as pending legislation does when a new administration takes over - but may be reintroduced, according to a spokesman for Zehringer's office.
The calamity day issue could become moot this year depending on Mother Nature. The long range outlook from the Farmer's Almanac calls for below-normal snowfall through February and a drier-than-normal stretch until at least Memorial Day.

Missed classes:
Calamity days excuse classroom instruction for hazardous weather conditions, disease epidemics, inoperability of school buses or other necessary equipment, damage to a school building or temporary utility failure rendering a building unfit for school use.
Until last year, Ohio schools were issued five calamity days; this year it was reduced to three.
Schools that exceed their calamity day allowances must make up the time. Most local schools have chosen scheduled days off, such as President's Day, Easter and Memorial Day, as make-up days, if needed.
St. Marys schools is the exception. Because construction of the new high school/middle school delayed the start of classes in the fall, make-up days begin June 8 - following the last day of class before summer vacation.
The school has used two of its three calamity days this school year.
- Shelley Grieshop