Tuesday, January 4th, 2011
Couple reminisces about place where relationship got rolling
Former roller rink being demolished
By Amy Kronenberger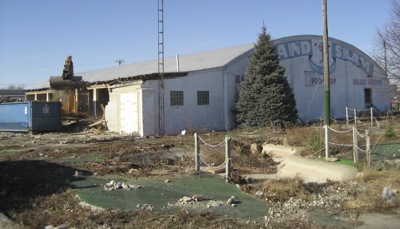 CELINA - Local couple Kenny and Janet Stein remembered the day they met 55 years ago at the former Beyer's Skating Rink as they stood and watched demolition crews tear it down Monday.
"I think we were here every Friday, Saturday and even Sunday," Janet Stein said. "My girlfriends and I would walk along the corn fields and tell horror stories on our way here. We were always terrified by the time we got here."
Kenny Stein said he and his dad, Ernest, also skated at the rink years ago.
"She actually skated with my dad before she skated with me," Kenny Stein said about his wife. "And my dad said, 'I've got someone you need to meet.' "
Stein said his dad loved to skate and skated until he was in his 80s.
"He'd roll over in his grave if he saw this," he said as parts of the building along East Wayne Street came down.
The Steins were joined by their cousin, Doug Schmidt, and his wife, Joyce. The two couples reminisced about the rink where they spent most of their youth.
Erwin and Charlotte Beyer owned the rink from 1950 to 1993. There were a few owners thereafter; the rink most recently was known as Grand Slam USA Family Center and included a putt-putt golf course. It closed a few years ago and was sold at sheriff's sale in June 2009.
Crews working at the site did not know what would replace the building once demolition was complete.