Thursday, January 13th, 2011
Suspect in St. Marys beating death denies guilt
By Shelley Grieshop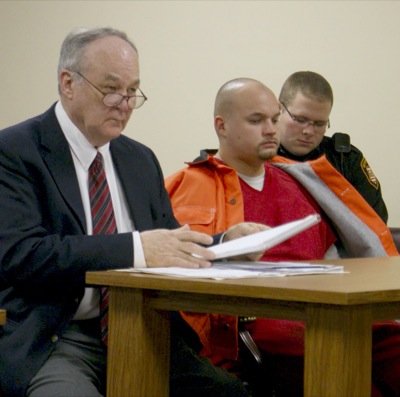 ST. MARYS - A St. Marys man accused in the beating death of another man in September has pleaded not guilty to the charges.
Gordon W. Diggle, 30, appeared for an arraignment hearing Tuesday morning at the Central Services Building in Wapakoneta - the temporary location of Auglaize County Common Pleas Court while the courthouse undergoes renovations.
Dressed in red jail garb and flanked by a sheriff's deputy and an attorney, Diggle appeared calm and without emotion during the proceedings. He faces a maximum sentence of life in prison if convicted for the murder of Steven Casad, 64, of St. Marys, who died from head injuries four days after Diggle allegedly assaulted him outside a bar in St. Marys on Sept. 8.
In December, a grand jury indicted Diggle on two counts of murder, no felony degree stipulated, and one count each of felonious assault and aggravated burglary, second- and first-degree felonies. Each murder charge is linked to the assault and burglary charges, accusing Diggle of causing the death of another while committing a felony.
Diggle could be found guilty of all four counts, including both murder charges, but can only be sentenced to one of the murder charges. He faces 15 years to life in prison for murder, up to 10 years in prison for aggravated robbery and up to eight years for felony assault.
Diggle fled the state after allegedly beating and robbing Casad outside Friendly Tavern, police say. Casad reportedly made it to his residence a few blocks away before an ambulance and police were summoned.
St. Marys police officers immediately issued a warrant for Diggle's arrest, and he was apprehended Sept. 13 by New York State Police in Tarrytown. Diggle fought extradition to Ohio but in mid-December was ordered to return to Auglaize County via police escort.
Diggle was ordered held on a $5 million bond during an initial court appearance in December. Judge Frederick Pepple continued that bond on Wednesday.
Auglaize County Prosecutor Ed Pierce and Diggle's attorney, John Poppe, agreed in court Wednesday to share discovery, which is evidence such as files and CDs that each party possesses. Pierce noted the copied file he was turning over to the defense contained 670 consecutively-numbered pages.
Pierce also promised to give Poppe copies of recorded radio transmissions from police and rescue units called to the scene of the September assault. He requested all discovery held by Poppe and asked the judge for a time extension to provide the court with a bill of particulars - a detailed summary of the alleged offenses.
Pepple agreed and extended the filing date from Jan. 20 to Jan. 27.