Friday, January 28th, 2011
Roughriders beat Redskins with lethal three-point touch
By Gary R. Rasberry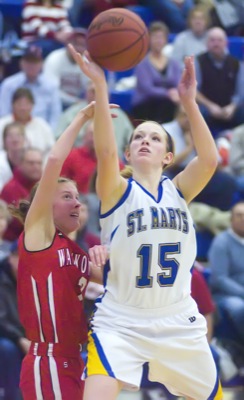 ST. MARYS - The Roughriders were potent from three-point range on Thursday night as they stayed on top of the Western Buckeye League standings with a 55-43 win over Auglaize County rival Wapakoneta at Murotech Court.
Wapak (7-7, 3-3 WBL) were without the services of 6-4 junior Morgan Quellhorst, forcing the Redskins to rework their defense to contain St. Marys' post players Jo Steva and Erika Thornsberry.
That, however, left the perimeter shots open; so DeeDee Sudhoff and Rachel Wale took full advantage. Sudhoff was nearly perfect from behind the three-point line hitting 6-of-7 en route to a game-high 19 points. Wale added a 3-of-5 night from long range and finished with 11 points. Overall, the Roughriders were 10-of-15 from behind the three-point line, a percentage of 66.7, which was better than the team's two-point percentage of 42.1 percent (8-of-19).
"When DeeDee's hot, she's hot," said St. Marys' coach Kelly Fulmer. "When (Wapak) doubled and tripled team down on our post, it opened up some opportunities to get some shots. They shot with confidence tonight."
Wapakoneta's coach Rusty Allen was a bit awed with the Roughriders' shooting night.
"You're not going to beat too many ball teams that shoot 10-of-15," said Allen. "DeeDee did an excellent job. I don't know if she missed. ... Rachel did a nice job. She got spotted up there a couple of times. I can't fault our effort. I thought our rotation was pretty decent. You're just not expecting teams to go out and hit 10 of 15 from outside. I would have to say this was obviously one of their better nights shooting."
Turned out, St. Marys needed the threes as the undermanned Redskins, with Quellhorst and two other regulars injured, stayed with St. Marys throughout the game. Nicole Brown was 4-of-7 from three-point range herself en route to a 14-point night and Courtney Knippen scored 15 as the Redskins trailed 12-11 after the first quarter and 26-21 at the half.
St. Marys did not get a lead into double digits until the fourth quarter.
"Give credit to Wapak, they hit some big shots," said Fulmer. "They didn't give up. They kept shooting and scoring. They took it to us."
"I'm real pleased with our effort tonight," said Allen. "I'm pleased with the production that we had. I think we executed well (Wapak committed only nine turnovers). ... We're playing a senior-dominated team with two sophomores, a freshman, two juniors and two seniors. I thought our girls held their own."
In addition to Sudhoff and Wale, Thornsberry finished with 12 points with Carrie Schlater added 11.
St. Marys continues its four-game homestand on Saturday, hosting another Auglaize County squad in New Knoxville for a noon JV start.