Saturday, January 29th, 2011
Deputy fires fatal shot
Pursuit of suspect ends at St. Marys fueling station
By William Kincaid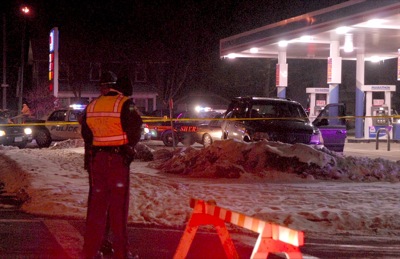 ST. MARYS - An Auglaize County Sheriff's deputy fatally shot a man outside the Marathon Gas station Friday evening.
The shooting occurred about 6:18 p.m. on the grounds of the gas station at the intersection of Front and South streets after the unidentified male was pursued by personnel from multiple law enforcement agencies.
Auglaize County Sheriff Allen Solomon would not name the deputy involved in the shooting. No law enforcement personnel were injured in the incident.
Solomon and St. Marys Police Chief Greg Foxhoven were tight-lipped about the incident Friday night, declining to name the man shot or the reason for the slow vehicle pursuit, which Solomon said began at the north corporation limits of St. Marys.
"We're going to be here for awhile," Solomon said outside the gas station Friday night.
Officials from the Bureau of Criminal Investigation and Identification arrived at the scene Friday night and will handle the investigation with assistance from St. Marys police. Solomon said the deputy who shot the man will be placed on administrative leave while the investigation is conducted.
Several blocks surrounding the gas station were blocked off following the shooting.
Solomon and Foxhoven acknowledged that a man had been shot after a pursuit ended at the gas station and that the St. Marys squad arrived on the scene and transported the man to Joint Township District Memorial Hospital.
Officials from the Auglaize County Sheriff's Department, the Wapakoneta post of the Ohio State Highway Patrol and the St. Marys Police Department were on the scene following the shooting.
A male who claimed to work at the gas station, identifying himself as Trent Mullins, told members of the media that he heard sirens and saw police vehicles and saw a man get out of an Explorer.
However, the interview came to an abrupt end after Solomon intervened.