Saturday, January 29th, 2011
Post hits game-winner for St. Henry
By Randy Bruns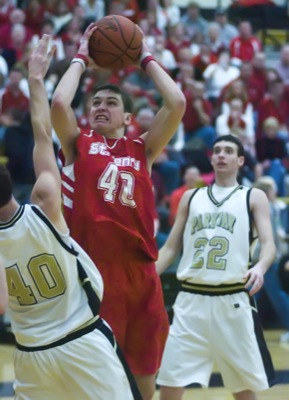 ROCKFORD - The St. Henry Redskins got a much-needed win on the road Friday night, and they pulled it off almost in spite of themselves.
The Redskins overcame a sloppy second half and a blown lead when Alex Post drilled a three-pointer with 10 ticks remaining to down the Parkway Panthers by a score of 43-42 at Panther Gymnasium.
St. Henry moves to 5-7 on the year and gets its first Midwest Athletic Conference win to raise its league mark to 1-4. Parkway is 3-11 overall and 0-5 in conference play.
The exciting ending came on the heels of a brutal third quarter. The halftime break seemed to last longer than the regular 10 minutes, as both squads struggled mightily in the third. The two teams combined to score just nine points and committed 14 turnovers before the stanza mercifully came to an end with St. Henry on top 31-26.
The fourth quarter provided much more excitement, as the Panthers slowly began their comeback. The hosts managed to tie the score three times but each time the Redskins were able to forge back ahead by two. The final tie came at the three-minute mark when Riley Bransteter sank a pair of free throws to make the score 38-apiece. The tie was quickly broken when Corey Decker drained a three-ball to give the Panthers their first lead of the night.
Post later got the Redskins back within one when he drove the lane for a hoop, but the visitors couldn't go back on top after a pair of misses from the charity stripe and Steven Luttmer's misfire on a three-ball. Decker was then fouled and made one of two from the foul line to put the Panthers back up by two with 18 seconds left, but the Redskins had one last opportunity.
Post took a pass at the wing and forked up a high-arcing bomb that touched nothing but net with 10 seconds left. With both teams out of timeouts, a wild rush to the other end of the court ensued, and Bransteter got a shot off in the lane. The attempt rolled off the rim and Trevor Wuebker scooped up the board and put up a last ditch effort but it missed its mark as well as the buzzer sounded.
Redskins' coach Eric Rosenbeck was glad to see the ball in the right hands when it came to crunch time.
"We talked all week to our guys about knowing your role," explained Rosenbeck. "We said that Post and Luttmer were our shooters, and those guys were 0-for-8 (from three-point range) before that last minute, but both of them let it fly. Luttmer's didn't go in but Post's did and maybe it'll be the other way around next time. Either way I just can't be happier with the kids' effort tonight."
Rosenbeck got that effort from his entire roster, as he employed wholesale substitutions by rotating in an entirely different unit on several different occasions.
"We just started that tonight because we've been looking for somebody to carry us," said Rosenbeck. "We realized that we have a lot of guys that can do different things, and we said with a 4-7 record, let's give it a try."
Parkway coach Doug Hughes saw a valiant effort from his charges go for naught in the finals seconds.
"We did a lot of good things tonight but they hit a shot when they had to," said Hughes. "It was just a real tough defeat. They were struggling so badly against our zone but then we gave up too many layups by not getting back on defense."
Decker had an outstanding night in leading all scorers with 21 points on a sparkling 5-for-9 effort from behind the three-point arc, while Bransteter joined him in double digits with 13. Post's nine points paced the Redskins.
Both teams will take part in non-conference battles tonight, as St. Henry travels to take on Ansonia and Parkway hosts Lincolnview.