Friday, February 18th, 2011
Minster captures the outright MAC crown
By Mark Ruschau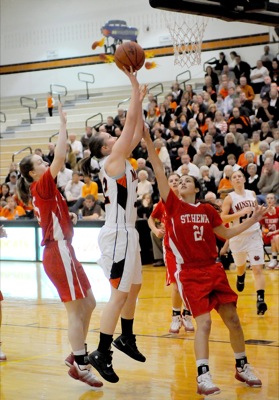 MINSTER - The Minster girls basketball team captured an outright Midwest Athletic Conference title on Thursday night with a 51-37 win over the St. Henry Redskins on Senior Night at the Minster Middle School.
The Wildcats end the regular season with a perfect 9-0 conference mark and a sparkling 18-2 overall mark. The conference title is the 14th in school history for Minster, its first since 2004.
"It has been so much fun playing this season," said Minster senior tri-captain Maria Dahlinghaus. "Since our freshman year, winning the league has been one of our goals and to actually make it happen is great. Of the 17 girls that started in our class, we're the six that made it and it's awesome to win it with them."
"To win the MAC title is not easy and to win it outright is even harder," said Minster coach Nann Stechschulte. "This league season has not been easy, we have had some tough games. When you have a senior-oriented team like we had this season, sometimes it comes down to senior leadership to win a close game or not win a close game.... Making a big play in a tight situation.
"This senior class is special," continued Stechschulte. "All six of these girls knew what their roles were and we will miss them dearly."
Winning the league title will be the lasting memory of this night for Minster fans as the game was less than memorable. The Wildcats used a great defensive effort to overcome a sluggish offensive performance.
The Minster defense held St. Henry (7-13, 3-6 MAC) to just 30-percent shooting from the floor (14-of-46) and forced the Redskins into 16 turnovers.
The Wildcats also dominated the boards, grabbing 49 rebounds to just 25 for St. Henry. Tara Clune grabbed a game-high 10 rebounds for Minster while senior Erica Fullenkamp chipped in nine rebounds and Kayla Wuebker added eight.
Minster did struggle shooting the ball hitting on just 21-of-56, including just 3-of-11 from three-point range. The Wildcats also did not take very good care of the ball as well as they turned the ball over 19 times.
Senior Delanie Wolf, playing her last game before the home fans, scored a game-high 19 points on 9-of-14 shooting.
"This game was definitely not a thing of beauty," said Stechschulte. "We never really got into a flow tonight. With it being senior night and the emotion that goes with, I think we never really got in sync, the chemistry just was not there tonight."
Ashley Heitkamp led St. Henry with 11 points.
St. Henry opens postseason play next Tuesday in the second game of the Division IV sectional doubleheader at Wapakoneta against the New Bremen Cardinals. Minster will wait until Saturday Feb. 26th to open tournament action as the Wildcats will play the winner of the Ridgemont/Marion Local game in the upper bracket sectional final at 6:15 p.m.

MAC Standings:
MAC Overall
Minster 9-0 18-2
Fort Recovery 8-1 18-2
St. John's 6-2 14-5
Marion Local 5-4 12-8
New Knoxville 4-4 14-5
Versailles 4-5 10-10
Colwater 3-5 9-10
St. Henry 3-6 7-13
New Bremen 1-7 6-13
Parkway 0-9 2-17

Saturday's Games
New Knoxville at Coldwater, noon
St. John's at New Bremen, noon