Saturday, February 19th, 2011
Local community to the rescue
Celina family begins again after fire destroys home
By Margie Wuebker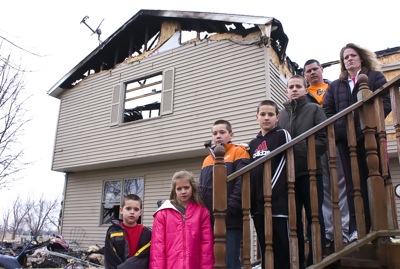 CELINA - Flames, smoke and water destroyed the Mud Pike residence Steve and Katey Eichler's family called home, but it didn't destroy their spirit.
"We keep telling the kids it's only a house, and it's only stuff," Katey said. "All that can be replaced sooner or later. More importantly, we are all here and unhurt."
The Saturday morning blaze one week ago has sparked an outpouring of support and donations that continues to amaze not only Steve and Katey but also their five children, ranging in age from 5 to 15.
"We want to thank the community that came to our aid," Steve said. "Many of the donations were made anonymously, so we don't even know who to thank."
The outpouring started immediately even as firefighters worked feverishly to extinguish the blaze and to salvage belongings. A neighbor opened her home giving the Eichlers a warm place to watch the drama unfold. Other neighbors pulled clothing from their children's closets to aid the family.
One local car dealer who heard the family's vehicles had been destroyed dropped off a Suburban before fire trucks cleared the scene. A second dealer delivered a car; Red Cross representatives arrived on the scene to assist; their insurance agent showed up and arrangements were finalized for a two-bedroom apartment at West Lake Villas. Friends made sure all the basics, from dishes and silverware to cereal and Pop Tarts, were in place when the Eichlers arrived at the apartment.
The blaze, discovered at 11:40 a.m., began in the three-car garage added as part of the family's latest remodeling project.
Katey, a kindergarten teacher at West Elementary School in Celina, and Steve, a Crown Equipment Corp. employee, were painting the living room and the stairway leading to the upstairs bedrooms.
"I smelled something - not smoke, more like hot plastic," he said. "I wondered whether somebody had left something in the oven."
Katey looked out the front window and saw dense smoke. She then looked through the window of a door leading to the garage and saw orange flames everywhere.
She called "fire" and turned around to find all five children - Eddie, 15, Isaiah, 12, Lincoln, 10, Carley, 8, and Jack, 5, - standing there. Just seconds before, they had been enjoying a leisurely morning in the basement. No one took time to don coats or shoes; they went outside on the deck and then into the snow-covered yard with only the clothes on their backs. Katey grabbed a stack of scrapbooks on the way out.
"We were in the last stage of remodeling and putting a second coat of paint on what was becoming the house of our dreams," Katey said. "I kept thinking 'We're going to lose it all' as we stood outside. That is without a doubt the most helpless feeling in the world."
Smoke detectors went off as the family fled.
"I had 10 smoke detectors located throughout the house but none in the garage," Steve said. "I would encourage everyone to put one there."
An investigator from the state fire marshal's office pinpointed the cause of the fire as spontaneous combustion in a pile of rags left from staining woodwork.
The Eichlers have nothing but praise for local firefighters who remained on the scene salvaging what little belongings remained.
"Those men worked so hard fighting the blaze and then they went the extra mile by taking family pictures off the walls and covering them with a tarp," Katey said. "They also carried boxes of pictures and the kids' school projects from the basement."
One firefighter emerged from the charred home with Jack's Batman toys in hand. Others emerged with Steve's wallet, Katey's purse, a small fireproof box containing important papers and a mound of backpacks holding the children's schoolwork and their mother's lesson plans.
"We had moved a lot of things like backpacks to the far side of the house during painting and that was fortunate," Katey said.
The Eichlers returned to the house the day after the fire hoping to find closure and more mementos. Steve and the firefighter accompanying them retrieved Katey's wedding rings from a debris-covered bathroom vanity. They fished Jack's shoes from water in the basement and recovered his Ohio State University billfold still containing a $7 fortune.
"Seeing the upstairs bedrooms was the hardest part," Katey said with tears in her eyes. "Flames literally climbed up the garage wall and into the attic leaving behind so much damage."
More than a thousand books belonging to family members fell victim in Carly's bedroom and Isaiah's Christmas present - a shiny new guitar - became a blob of melted plastic. Hard-earned trophies for athletic accomplishments also melted, and only bits and pieces of autographed photos remained.
Every piece of sports equipment - from basketballs to baseball cleats - disintegrated in the garage. Even the basketball backboard melted.
"Steve and I bought the land before we got married," Katey said. "We built the house and spent our wedding night there. And we added on to make room as our family grew."
Future plans include rebuilding at the site and compiling a list of everything to be replaced. They laugh at the latter project, pointing out they have made trips to the store in recent days just to buy tape, Post-it notes, paper and a pen - things normally stored in one small drawer.
Katey recalls hearing someone mention Valentine's Day when she dropped off her lesson plans at school Monday morning.
"I never felt more loved than I do now," she said wiping away tears. "People in this community have given so freely and that would not happen in a big city. We are so grateful for everything, but all we need now are prayers as we approach the task of putting our lives back together one day at a time."