Tuesday, February 22nd, 2011
Winter slides back in to region
By Amy Kronenberger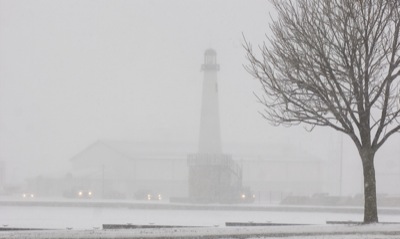 After receiving a taste of spring weather last week, winter's return to the area Monday is keeping rescue workers and road crews busy.
A Level 1 ice/winter storm advisory issued in Mercer County at 4:42 p.m. Monday was still in place as of press time today. The sheriff's office advised people to use extreme caution when driving as roadways are ice covered and hazardous.
Celina public works superintendent Joe Wolfe said he sent salt trucks out early Monday, trying to treat before the ice arrived. However, the trucks couldn't keep up when the snow arrived, so they gave up, he said.
Fourteen pieces of equipment went back out at 3 a.m., and workers were able to get ahead of it, Wolfe said.
"We're lucky because we have multiple departments working together to get the job done," he said. "I don't have enough staff to cover the storms, so it's nice having others who are willing to pitch in."
Wolfe said it takes about six tons of salt for one application on city streets. The city does not have a salt shortage, he said.
"It's been a long winter for us, and we've used a lot of salt," Wolfe said.
Local weather forecaster Dennis Howick said the area received 2.2 inches of snow Monday and overnight. However, some reports are saying possibly as much as 4 inches fell in the area.
Total snowfall so far this winter is 32 inches, just below the average total snowfall of 34 inches for the area, Howick said. Many think the area received a lot more snow than normal because the snow stayed on the ground, he said. Most years, the snow melts between the few big snowfalls.
Rescue crews responded to 17 weather-related accidents in Auglaize and Mercer counties as of press time this morning.
Mercer County sheriff's office reported nine accidents, three with injuries. One accident occurred on state Route 118 just north of St. Henry at 3:25 p.m. One person was transported to the hospital.
The second injury accident occurred on state Route 118 at Fairground Road, west of Celina, just 15 minutes later. Two people were transported to the hospital. The third accident occurred on U.S. 127 north of Dutton Road in Dublin Township at 11:19 p.m. One person was transported by private vehicle to the hospital.
The other six accidents involved slide-offs and minor fender benders.
In Auglaize County, only two of the eight accidents involved injuries, all reported as minor, according to the Ohio State Highway Patrol. All occurred on Interstate 75, except one on U.S. 33 where a semitrailer flipped on its side.