Thursday, February 24th, 2011
Defense keys Parkway's victory over Fairview
Division III Sectional at Van Wert
By Mark Ruschau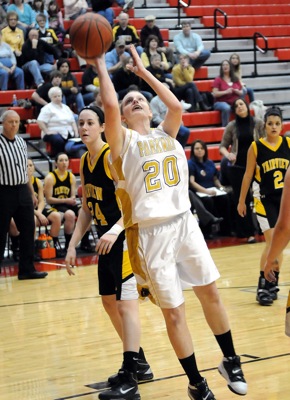 VAN WERT - It was so simple and yet so effective.
The Parkway Panthers used a stout man-to-man defense to fuel their offense while frustrating the Fairview Apaches en route to a 61-47 win at the Division III girls' basketball sectional at Van Wert High School.
Parkway improves to 3-17 on the season and moves to the sectional final against the top-seeded Fort Recovery Indians on Saturday at 6:15 p.m.
"This is a nice win to be able to continue the season for at least one more game," said Parkway coach Jeff Kallas. "With a win like this, I think the girls will get a little more confidence and hopefully it rolls over into Saturday night and next year."
The Panthers played one of their best games of the season as they held the Apaches (4-17) to just 19-for-51 shooting from the floor and forced 23 turnovers.
Parkway used its defensive pressure to turn the tide of the game late in the third period. Trailing 36-34 with 2:17 on the clock, the Panthers forced Fairview into seven straight turnovers which Parkway turned into 11 points for a 45-36 lead after three periods. Haley Roehm tied the game on a baseline jumper with 1:20 left and then gave her team the lead for good as she made a steal and laid it in for two. Becca Harshman then took over as she scored inside on consecutive trips to make the score 40-36. Megan Fisher converted a turnover into a three-pointer and Harshman capped the rally with a lay-in.
Fairview was not quite ready to fade away as it cut the deficit to eight points at 47-39 but the Panthers held off the Apaches. A Fairview turnover resulted in a pair of free-throw attempts by Harshman, who hit the first but missed the second before Cami Hellwarth grabbed the rebound and stuck in the offensive rebound to put her team back up 50-39.
"The way we played at the end of the third quarter was huge," said Kallas. "The third quarter has been horrendous for us this year. It has cost us some games and today we came out, got some steals and we converted on them which was also huge for us because that is something that we have been struggling with as well. We were able to build some momentum from that. We just played a man defense, tried to trap out of it a little and just tried to make them work on offense.
"I really think that their (Fairview's) struggles at the free-throw line was one of things that helped us win," continued Kallas. "They missed over 20 foul shots and if they make the majority of those, it is a different ball game. So call it luck, but I will take it any way we can get it."
Harshman led the way for Parkway with a game-high 23 point and added a team-high 10 rebounds. Roehm added 14 points and nine rebounds.