Wednesday, February 9th, 2011
St. Marys turns to Phillips
By Gary R. Rasberry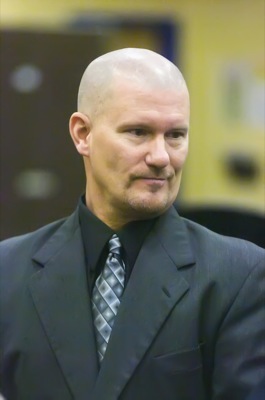 ST. MARYS - Greg Phillips was well aware of the tradition of the St. Marys football program long before he applied for the head coaching position.
Approved by the St. Marys Board of Education on Tuesday night, Phillips brings 25 years of coaching experience - five as a head coach - to a program that will be looking to bounce back from a rough 2010 season (1-9).
"I don't know if you want to call it fate or anything as bizarre as that, but I remember being at the state championship games when coach Baughman won three state championships," said Phillips, referring to the Skip Baughman teams of 1990, 1992 and 1993. "I saw them play and I always remembered that: the crowd support, the visual of things like that. I knew that this is a very strong traditional league. Football is important to this community, athletics in generally important to this part of the state."
Phillips' goal, when asked during the interview for the job, was quick to the point.
I came to the board (for the interview) and I think the third question they asked was what brought me to St. Marys and I told them I want to win a state championship. ... I think this community wants to get back to that level. We're going to try to see if we can do that.
"The first question (of the interview) was to draw up my favorite play. I knew right away this is a football place."
One thing that Phillips brings with him is the reputation of turning around a program.
Phillips, who had assistant coaching stops at places like Jackson, Lancaster, Circleville, Hilliard Darby and Bishop Ready among other schools, spent the last five seasons at Oak Hill High School in Jackson County. Oak Hill was a team that did not win a game the year before Phillips arrived. After going 3-7 in his first season in 2006, the Oaks turned their fortunes around, going 5-5 in 2007 and 7-3 in 2008.
In 2009, the Oaks went undefeated in the regular season and made their first-ever trip to the playoffs, earning Phillips Division V State co-Coach of the Year.
After going 9-1 in the regular season in 2010, Oak Hill advanced to the Division V Region 19 final for the first time in school history, losing to Fredericktown 28-21. Fredericktown went on to lose to Coldwater in the state semifinals.
Phillips sees a difference in what he did at Oak Hill in what his mission is at St. Marys.
"I think the difference here (from Oak Hill) is that you have a strong tradition here," said Phillips. "I don't think it's been that far that the kids remember seeing those Western Buckeye League (titles). When I came to Oak Hill, they were 0-10 the year before I got there and a combined 4-26 the three years before I got there. Even before that they were hovering around the .500 mark. They had never been to the playoffs. Never won a league championship (since changing leagues 20 years before). Really, it was getting in the minds of the kids. ... I'm not sure that's the problem here."
Phillips' strategy on offense is one of a traditional style.
"I really believe in running a system on offense and defense," said Phillips. "Anybody can get on the internet and grab a bunch of plays and throw them together. I think (if) you have a system you believe in, you've got answers to things opponents are going to do to you and adjustments that you can make because that's part of your system and your kids understand the whole thing.
"I know the Wing-T was big here. I'm an I (formation) guy. We're going to run the football. We're going to be a physical, hard-nosed running team, but the nice thing is I think we have a real nice play-action and boot package. I had a quarterback the last two years throw 46 touchdowns (to just) five interceptions. We were never in the shotgun, we were never in a spread-type offense. We were in the I. We ran some double-wing, Wing-T stuff; ran jet rocket sweep and counters out of that and I'm sure they're familiar with that here. I would call it a real physical, hard-nosed brand of football. I think they're used to playing here."
Phillips, who will meet with St. Marys' team members on Friday and be introduced to the community over the weekend, says his expectation for the team will be to work hard.
"I'll tell the kids Friday that I play favorites. I really do," said Phillips. "I play favorites to the kids that do things right and work hard. I think that's the way I was brought up. Southeastern Ohio, where I am from (Wellston) is really hit hard economically right now. Used to be coal mines and steel, and that stuff (is) gone now, like Northeastern Ohio. It's a pretty tough environment. I value hard work and discipline out of the kids. I want to see a physical, tough football team on the field."