Tuesday, March 1st, 2011
Communities flooded with woes
Water receding
From staff reports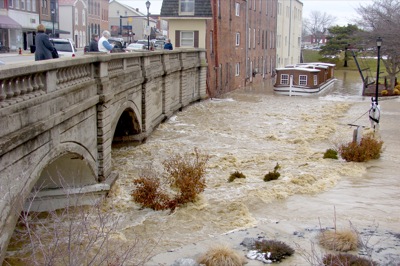 By STAFF REPORTS
newsdept@dailystandard.com

The St. Marys River spilled over its banks on Monday and into the back doors of many businesses on Spring Street in downtown St. Marys.
St. Marys Trading Company owners Larry and Diane Kramer worked to get all the merchandise in their basement onto tables. By early afternoon, the couple measured more than two feet of water in the basement.
Next door, Canal Side Book Shop owner Cheri Lyn said she wasn't willing to wade into the cold water to save anything. Lyn stood on the steps of her basement and stared at the rising water.
Emergency workers were busy Monday rescuing hundreds of stranded residents from houses and vehicles on the south side of St. Marys. On Greenville Road, rescuers saved a mother and two small children from a stranded vehicle. On Oliver Street, a firefighter rescued a baby from a vehicle with water up to its windows.
Auglaize County Emergency Management Director Troy Anderson said approximately 300 residents in St. Marys and about 500 total in the county were evacuated into shelters.
Anderson said the St. Marys River crested in Auglaize County at 9:30 p.m. Monday and Auglaize River in Wapakoneta crested at 3 a.m. and is receding, he said.
At the height of the flood, Anderson said 28 roads were closed in the county. All the main roads are now open.
As the floods recede, Anderson said EMA will inspect homes and businesses to determine damage and money loss. Any residents whose homes are unfit to live in will be put up in a hotel.
Anderson said the flooding hit St. Marys hard because the rain came from the south and pushed water from the river and its tributaries into St. Marys. If the rain had come from the north, Wapakoneta would have gotten the worst of the flooding.
He said although the water is receding and clean-up is under way, the area is not out of the woods. More rain is expected Thursday and Friday.
Just southeast of St. Marys, more than 200 cats were rescued from an animal shelter that flooded on Aqueduct Road.
Just down from the shelter, Butch Martin's office for his auto salvage business was flooded.
"I have about four feet of water in my office, which has taken out all my files, my computer - I've lost everything," he said Monday afternoon as he looked across acres of floodwater, which was still rising.
Coldwater
In Coldwater, where a state of emergency was declared at 4:20 a.m. Monday, an estimated 400 basements, numerous streets and the mall's parking lot were flooded, Village Manager/Engineer Eric Thomas said.
"We've had people say they have water in their basement for the first time," he said. "I'm not so sure we've ever had a rain like this before. Not only was there rain, but we had snow on the ground already and the ground was frozen. Our system just couldn't handle it."
Fort Recovery
Extensive flooding also occurred in Fort Recovery. However, unlike previous floods, heavy waters were confined to areas near the Wabash River, village administrator Randy Diller said.
Fort Site Park and Ambassador Park - both located in a flood zone - were engulfed in waters, as well as some land behind the Fort Recovery State Museum. There was no damage to the museum.
Some businesses on Railroad Street flooded, Diller said. The office area of Fort Recovery Equity had about a foot of water, but mill continued to operate.
Residents of Broadway Mobile Court were evacuated by fire department personnel as the drive to the court was completely under water. Water did not enter any of the trailers, he said.
He also said several residential basements were flooded, but no residents reported first-floor flooding. Village personnel were going door-to-door today to assess damage.
Power outage
Celina and parts of Mercer County lost electricity for more than an hour Monday night.
The disruption occurred around 9:45 p.m. with power restored around 11 p.m..
Celina Safety Service Director Rick Bachelor attributed the outage to a loss of power feed from Dayton Power & Light Company. The problem was traced to the utility's transmission lines near Covington, which was affected by flooding from the Stillwater River in Miami County.
Anderson said Auglaize County also had some power outages. DP&L deliberately shut off power on the south side of St. Marys for safety purposes Monday. As of presstime today, Anderson said only 30 residents remain without power in the county because of flooding.

- Betty Lawrence, William Kincaid, Janie Southard, Margie Wuebker and Amy Kronenberger contributed to this story.