Monday, March 14th, 2011
Local couple feel tsunami impact on Hawaiian stay
By Shelley Grieshop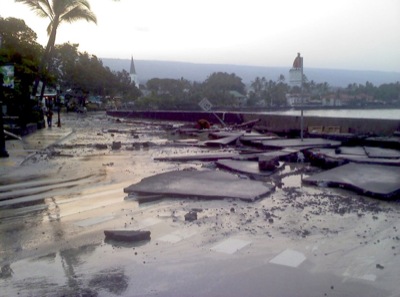 HAWAII - The peaceful evenings Mary and William Oen have grown accustomed to along the beach of Kailua-Kona were shattered Thursday night by blaring sirens.
From the TV in their third-floor condo on the west side of the "Big Island," the rural St. Marys couple learned of the devastating earthquake in Japan and the tsunami heading their way.
"They kept showing Japan and said the (Hawaiian) islands were now under a tsunami watch," Mary said in a telephone interview Saturday.
By 10 p.m. Thursday, the watch turned to a warning and Kona-area residents were ordered to evacuate, she said. The retired pair - who spend about 10 weeks each winter vacationing in Hawaii - initially decided to join their neighbors and "ride it out," Mary said.
"William went to bed. I was going ballistic," she added.
About 1:30 a.m. Friday, she learned evacuation routes were closing. She woke her husband and they headed to higher ground at a shopping center complex a quarter of a mile away.
"It was wall-to-wall people when we got there," she said.
A parking area to the rear of the mall normally closed to the public was opened for refuge. Unable to see or hear the 9- to 12-foot waves lashing at the coastline, she fell asleep in the car as William roamed about, she said.
"People were asleep on sidewalks, in the grass ... it was quite a sight," she said.
As daylight arrived, she decided to get breakfast at a Denny's restaurant on a hill above the mall. From there, she saw in the horizon hundreds of unmanned boats floating aimlessly in the Pacific Ocean. Their owners had been instructed to free them from the marinas before the damaging waves arrived.
A man at the restaurant announced the evacuation order had been lifted, and hundreds of exiled families attempted to make their way home, she said.
Although roads near their home yielded high water, the Oens were relieved to find their beachfront property unscathed. They decided to check out other areas a few miles to the south and were shocked at the devastation they found.
Concrete barriers weighing several tons were moved inland by tsunami waves from the beach the Oens visit almost daily. A stone wall that borders nearby Kahaluu Beach was destroyed.
"We saw this picnic table that basically disintegrated," she said.
The village of Kailua along the coast, about 10 miles from Oens' home, was closed to traffic Friday after water swept through many of the downtown businesses.
Further down the coast, a two-story home in Kealakekua Bay was swept into the raging waters with several vehicles. About a dozen other homes were heavily damaged by the storm's surge, Mary said.
Many tourist sites in the area were flooded, local news reports noted. A cruise ship carrying 2,000 passengers opted to skip its stop at the newly-built, multi-million dollar Kailua-Kona Pier because asphalt and sidewalks were pulled up, a comfort station was submerged and ticket booths were destroyed, the Associated Press reported.
No deaths were reported in Hawaii; however, damage estimates are estimated in the millions, officials say.
Mary and William Oen are saddened by the destruction they've seen but realize the people of Japan were dealt a much worse hand.
"This doesn't match what's going on there," Mary said. "You realize life is very fragile and we're very appreciative of the Lord."