Monday, March 14th, 2011
Bulldogs fall short in rematch against Cougars
By Ryan Hines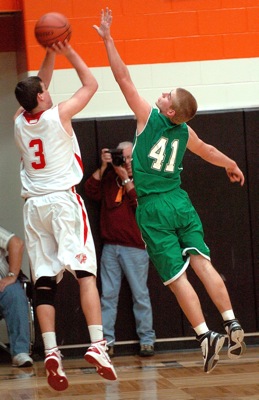 Corey Clifton scored 29 points and Van Wert shot 68 percent from the field on the way to a 65-63 win over Celina on Saturday at Ohio Northern University.
It should come as no surprise to anyone that the outcome was decided in the final seconds after three straight overtime matchups between the two Western Buckeye League rivals.
Clifton missed two opportunities late in the regular-season meeting that would have given the Cougars a victory, but Van Wert's senior point guard cashed in this time around. Clifton buried a pair of free throws with 8.3 seconds left in the game to break a 63-63 tie and then made the defensive play that sealed the win for the Cougars.
"This is by far the best team that I have ever been a part of, on and off the court. They gave me everything that they had everyday and I can't ask for anything more out of them," said Celina's head coach Chris Bihn. "To see our season stop here has to be the toughest loss that I have ever been a part of. It was a great game between two very good teams."
"I can't explain the feeling, it just feels great to win the district championship," said Clifton, who will lead the Cougars (19-4) into the BGSU Regional on Thursday night against Rocky River. "We had a lot of guys step up tonight to get the win."
Clifton's two free throws gave Van Wert a 65-63 lead, but Celina (19-4) had plenty of time to force overtime or win it with a three-point shot.
Celina's Scott Moeder took the inbounds pass and weaved through the Van Wert defense before spotting a wide open Greg Riemesch under the basket. Moeder's pass to Riemesch was kicked by Van Wert's Austin Fleming which stopped the clock with just 2.1 seconds remaining in the game.
The Bulldogs had the ball under the basket on the baseline and Nate Bihn's inbounds lob pass intended for John Homan was knocked away by Clifton and secured by Van Wert's Jacob Myers as the clock hit zero.
"I went up (cut to high post), and he didn't go with me. He sagged low. I tried to get him off balance (on the lob pass), but he was able to jump up and knock the ball away," said Homan.
Clifton's game-winning free throws came on an official's call that will be disputed for years by Celina fans. Clifton had the ball at the top of the key with under 10 seconds to play in the game before lowering his shoulder on a drive to the basket that knocked Bihn to the floor. Bihn was whistled for a blocking foul, despite screams from the Celina faithful pleading for an offensive foul.
Van Wert, which lost 60-57 in overtime against Celina on Jan. 21st, was near flawless in the tournament rematch. The Cougars shot an incredible 25-of-37 from the field (67.6 percent) and got a huge lift from Reggie Phillips, who erupted for a career-high 19 points on a perfect 9-of-9 shooting on field goals.
"We actually played good defense and the kids did everything we asked them to do," said Bihn. "Give Van Wert credit, they executed extremely well. They did a great job of isolating Clifton down low and Phillips shot the ball extremely well for them. Usually teams have worn down against us this year in the fourth quarter but Van Wert shot the ball well the whole game."
Celina hung right with Van Wert by shooting 24-of-44 from the floor (54.5 percent) while getting 16 points each from Bihn and Homan. Kahl Knapke, Clayton Hoyng and Moeder each contributed eight points.
"I think people left the gym tonight thinking that they saw a great game," said Froelich. "Both teams gave great effort and it was just a great game. That's exactly what a district final should look like, we're just happy to have won the game and move on."