Wednesday, March 16th, 2011
State budget cuts not local disaster
Local officials
By Shelley Grieshop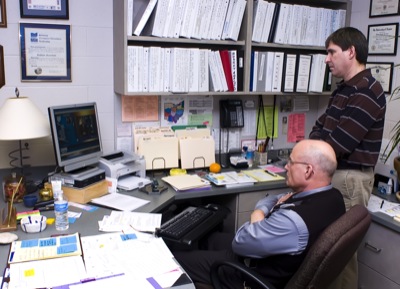 Preparing for steep state funding cuts put Mercer County in good financial shape to weather Gov. John Kasich's proposed budget for 2012 and 2013, local officials say.
"It's less than we anticipated," county commissioner Bob Nuding said about the cuts this morning.
Kasich's proposed budget would slash 25 percent ($200,000) from the county's funding the first year and 50 percent ($400,000) the second year.
In formulating the 2011 county budget, commissioners figured a loss of $400,000 in state funds both years, Nuding said. They plan to review their budget again in June to see if any changes need to be made, he added.
Nuding, the board chairman, said the county has to balance its budget, too, and he understands Kasich's plan.
"It has to work ... We'll make it work," he said. "The big cities don't understand. We have to downsize our government."
State Rep. Jim Buchy, R-Greenville, admitted that local government funding is taking "a big hit" but knows counties like Mercer will survive.
"They've been preparing for this. Who's in trouble here is the big urban areas who've gone on for years like there's no tomorrow," he said.
Buchy, 70, said revenue from soon-to-be operational casinos across the state will help defray some of the losses felt by counties, townships and schools.
He believes Kasich has "tremendous vision" and called his plan "the biggest reform that's ever come to state government."
"It's not just a slap-it-together budget. He's been working on this for three years, long before he was elected," Buchy said.
Portions of the proposed budget will hold school teachers more responsible for performance by giving bonuses to those who excel and taking away seniority rights. The action goes hand-in-hand with the highly-controversial Senate Bill 5 legislation that remains pending, Buchy said.
"It's part of the package," he said.
Under the proposed budget, the Department of Education would see an 11.5 percent decrease in funds in 2012 and 4.9 percent the year after. Formula funding for schools saw a slight increase. Buchy's message for Ohio's school districts: "Tighten your belt and manage your money better. That's what we do in the private sector."
The governor's budget eliminates all funding for the next two years for the Science, Technology, Engineering and Mathematics (STEM) program - adopted several years ago by St. Henry, Fort Recovery and New Bremen schools.
Buchy promised to look into the matter to help the schools continue financing the program.
St. Henry schools superintendent Rod Moorman said the district had already lost all state STEM funding this year when grants were redirected to major urban schools. However, they're working with the regional STEM Center in Dayton and other options to keep the program rolling, he said.
Moorman said the school intends to at least partially fund STEM through its permanent improvement account.
Debra Farrell, director of Sources Community Network Services, was "discouraged" by some of the planned state funding losses to human services, including an 86 percent cut in 2012 to the Department of Aging.
"It's really alarming," she said, adding she also fears a nearly 50 percent cut in funds in 2013 to the Department of Alcohol and Drug Addiction Services.
"These will absolutely affect us if these services are not available locally," he said.
State Sen. Keith Faber, R-Celina, said there are some things he likes and doesn't like after an initial read of the budget. Shared sacrifices by Ohioans will help the state successfully create jobs, he said.
The budget may prove difficult for local governments, but most local municipalities were prepared, he said.
Part of Kasich's proposal also includes selling five prisons to private operators to net $200 million for the state. Local jails will not be affected.
Auglaize County Sheriff Al Solomon said he would rather have control over his people.
- William Kincaid contributed to this story.

Superintendents respond:

Ohio school districts have been bracing for state funding cuts of 10-15 percent and were hopeful of having some answers following Tuesday's unveiling of Gov. John Kasich's two-year budget plan.
That didn't happen.
The one fact local superintendents seem to know for sure is federal stimulus money will expire as planned. Also, Kasich said 400 schools would see an increase in state-generated funding.

"Details on how the proposed budget will impact schools is unclear. There's not much we can do right now ... I'm holding onto the fact that the state is broke and they have to find a way to make the difference up. It's going to take sacrifice and there remains a lot of anxiety at a lot of levels." - Rich Seas, Coldwater superintendent
"Personally, I think he's (Kasich) moving in the right direction ... things need to change. (But) you can't say education is important and then make big cuts and expect that type of education." - Rod Moorman, St. Henry superintendent

"We're merely speculating at this point, (but) as a whole, school foundation funds saw a minor increase. (However) if you factor in (the cut of) federal stimulus dollars, our net appears to be a significant loss overall ... Celina schools will be lowering operating costs through staff and program reductions." - Matt Miller, Celina City Schools

"Overall, we're very pleased with the state budget. We must go through line by line to see what individual programs got cut, but the overall funding saw a small increase ... Financially our district is in good shape." - Greg Puthoff, Parkway superintendent

"We think it's not as bad as it could have been or what we've been preparing for. We're not going to complain ... However, there's so much conjecture, so many line items, the real analysis hasn't begun yet. We'll know better in the next couple of weeks." - Doug Karst, Marion Local interim superintendent