Wednesday, March 16th, 2011
Mercer chambers partner in project
By Christine Henderson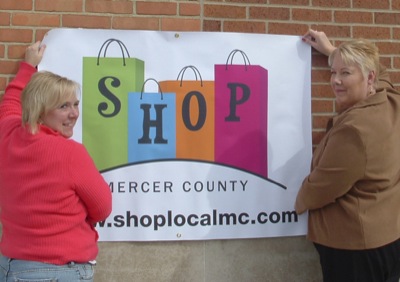 A countywide alliance of chambers of commerce and local businesses has formed to promote shopping in Mercer County.
The Shop Mercer County effort is organized by the Fort Recovery Chamber of Commerce, Coldwater Chamber, St. Henry Commercial Club, Rockford Chamber and Celina Mercer County Chamber. Pam Buschur, executive director of the Celina-Mercer County Chamber of Commerce, said this is the first joint chamber project during her 10-year tenure.
The first effort is a Ring in the Spring sale March 31-April 3. All Mercer County merchants are asked to participate by offering special sales, snacks, free seminars, or even entertainment.
Small advertising signs are being distributed.
More campaigns will be planned in the future, said Heather Zehringer, chairwoman of the Mercer County chamber special committee for the project.
"One of our goals is to make people aware of the importance of shopping in Mercer County," Zehringer said.
The Shop Mercer County logo was designed and printed by the staff at Celina Insurance Group. Lisa Niekamp-Urwin, Coldwater chamber president, did the Chamber Internet design effort. Tomorrow's Technology Today designed and hosts the website:
www.shoplocalmc.com
.
People who look around may be surprised what they can find locally, Niekamp-Urwin said. Young shoppers often go straight to the Internet, without even considering local stores, she said.
For every $1 spent locally, 68 percent stays in the community. With online purchases, none of the money stays here, Buschur said.