Thursday, March 17th, 2011
Jury: Wangler guilty
Doctor eligible for parole in 25 years
By Margie Wuebker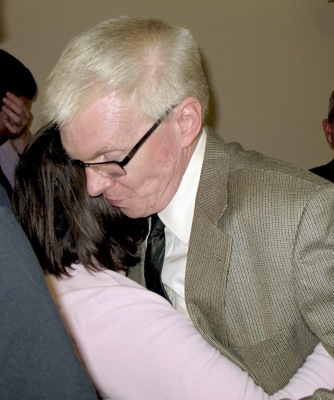 LIMA - Dr. Mark Wangler showed no emotion when jurors returned a guilty verdict Thursday afternoon in his aggravated murder case.
His composure never waned as Allen County Common Pleas Court Judge Richard K. Warren almost immediately imposed a sentence of life in prison with possibility of parole after 25 years. Wangler received credit for eight days served prior to posting a $1 million bond in the wake of his 2009 indictment. The judge also imposed a $25,000 fine.
Warren chastised the 55-year-old anesthesiologist and church deacon, saying he violated at least three oaths - his marriage vows, the Ten Commandments and the Hippocratic Oath - in murdering his wife, Kathy Schlarman Wangler, with carbon monoxide.
Other than jiggling one foot under the table, the doctor made few movements other than to shake his head in apparent disagreement when the judge referred to the 10 Commandments and in particular, "though shall not kill."
Warren also indicated Wangler has shown no sign of remorse.
The jury of eight women and four men deliberated just nine hours over two days before finding the Fort Recovery native guilty of killing his wife Sept. 4, 2006.
The prosecution maintains he pumped carbon monoxide from an internal combustion or gas engine into their home's ventilation system. Only two vents were open - those in the upstairs bedroom where his wife, a Celina native, was sleeping. The doctor apparently waited outside or in the master bedroom downstairs with the window open, a fan running and a towel rolled up beneath the door. He claimed a water heater malfunctioned, releasing the deadly gas into their Lima home.
Lead defense attorney Christopher McDowell said he intends to file an appeal within 30 days. The judge denied a defense request that Wangler remain free during the appeal process, calling him a threat to society and to himself.
Sobs could be heard throughout the courtroom as the verdict was announced shortly after 2 p.m. Esther Wangler, whom the doctor married 14 months after the murder, cried inconsolably in the arms of her son.
Across the courtroom aisle, Kathy Wangler's mother, siblings and other relatives also cried and hugged.
"This is for Kathy," her brother, Joe Schlarman, said. "It's not about Mark anymore."
Despite an objection from the defense, the court allowed Kathy's mother, Sara Schlarman, to read an impact statement at the end of the proceeding.
"How could you let greed of money, your sneaky devious mannerisms, your womanizing and your controlling personality illegally get rid of your wife," she asked her son-in-law. "We know you have always been a very selfish person who did not really care about our beautiful daughter, only yourself."
The paper in her hands shook as she called her daughter's death "senseless" before adding, "As a genuine caring person, Kathy can no longer personally visit us, call us, see us and that is awfully hard. Her father (Elmer Schlarman) died of a broken heart."
Before being escorted from the courtroom, Wangler kissed and hugged his wife, Lima psychologist Esther Wangler, and his sons, Nathan and Aaron.
"God is with me," he said before asking his boys to watch over Esther.
The doctor was handcuffed and taken to the Allen County Jail, where he remains under suicide watch pending transfer to the Ohio Department of Rehabilitation and Correction.
The sons declined to comment, but his wife told the media, "He will be out on appeal. We will stop at nothing to get him out on appeal. This is a cruel, cruel biased investigation. It was biased from the start."
Allen County Prosecutor Juergen Waldick embraced Sara Schlarman following the proceeding and then talked to the media. He called the 911 tape the most important piece of information because it not only established a timeline for emergency medical personnel but also gave jurors the opportunity to hear Wangler's reaction. The anesthesiologist, who has extensive training in advanced cardiac life support and routinely tracks vital signs as part of his work, claimed his wife was having a seizure and apparently did not check her breathing until the 911 dispatcher inquired.
"It's just inconceivable based on medical testimony that when EMS shows up, based on the condition of her body, that she was dead for just six minutes," he said. "It was just little things one after another that piled up and led us to believe that he killed his wife. I think our suspicions grew as evidence mounted."
McDowell shook his head in frustration, claiming the prosecution switched gears with a different theory at the last minute and failed to give the defense required notification. He also continued to criticize medical personnel regarding their observations and blasted the integrity of the University of Wisconsin State Hygiene lab and its "junk science." Lab officials testified that tests on the ductwork showed traces of soot from an engine.