Tuesday, March 22nd, 2011
Fleagle qualifies for Olympic Trials
By Gary R. Rasberry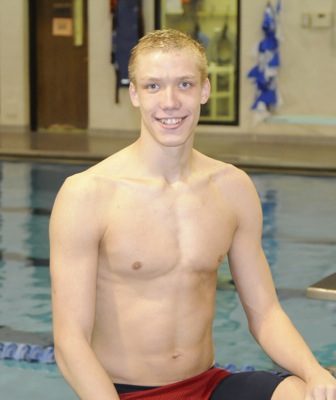 GRAND LAKE - When Josh Fleagle touched the wall in his preliminary heat of the 50-meter freestyle at the Missouri Grand Prix in February, he not only qualified for the final of the event, but also earned a prestigious spot.
Fleagle, who lives outside of St. Marys and swims with the Auglaize-Mercer YMCA Waves swim team, qualified for next year's United States Olympic Trials after his prelim time of 23.46 seconds bettered the qualifying standard of 23.49 seconds. Fleagle also earned qualifying times in both the junior Summer Nationals and the United States Summer Nationals.
"'Oh boy!'," was the initial thought of Fleagle when he discovered that he had earned a U.S. Olympic Trials qualifying time. "I was a little nervous. When I came (back) for the finals, it started to sink in that it definitely was not what I expected for the first time being in that situation."
Fleagle finished eighth in the final competing in a field that included Olympic gold medalist Matt Grevers from the United States and Olympic silver medalist Fred Bousquet from France, who won the final in 22.07 seconds.
"It definitely was exciting swimming with our nation's best swimmers and swimmers from other countries," said Fleagle, who also competed in two other events and qualified for the U.S. Summer Nationals in the 100 freestyle. "The Japanese record holder was there. There were people from France and Britain. A lot of great swimmers from a lot of different countries."
Strong showings are nothing new for the 17-year old Fleagle as he has been dominant in each age group for the Waves. Fleagle holds 10 Waves records in several age groups, including all 13-14 year old boy individual records in all four strokes - freestyle, backstroke, butterfly and breaststroke - and the individual medley, which encompasses all four strokes in one race.
Fleagle's Waves teammates were happy for him when they found out about his recent achievements.
"I would probably say they were more excited than me because when I swim, I always would like to do better than I usually do," said Fleagle. "When I first came to practice (after the Grand Prix), they were excited. I guess I wasn't as excited as they were. They were definitely excited for me, which was neat to have my friends like that."
During this season alone, Fleagle has qualified for the YMCA Short Course Nationals in seven events covering all the strokes. That will take place in Fort Lauderdale, FL. on April 5-8.
To say that swimming is in Fleagle's blood would be a bit of an understatement. One of 10 brothers and sisters, Josh is joined by brothers Jason, Jared and Justin as well as sister Julia on the Waves' swim team.
"Pretty much from the time we were born." said Josh's description when his swimming began. "This (the YMCA) is where we learned how to swim. Mom would take here when we were little babies, put on floaties and teach us how to swim."
Fleagle has flexibility to his practice schedule as he is a home-schooled student.
"In a week, it (schedule) varies so much because I have to balance school and then swimming, unlike the older people that swim all the time," said Fleagle. "Usually, I'll practice twice (a day) two times a week, early in the morning and in the evening. Then three times a week I'll practice once (a day). The rest of the days I do dry-land (exercises)."
Fleagle's Olympic Trials will take place in Omaha, Nebraska on June 25 to July 2 in 2012.
"To go to the Olympic trials, is amazing in itself," said Fleagle. "To go to the Olympics, I would need to place in the top two in the 50 free. I'm just planning to go to the Olympic trials. This whole year leading to it will be a lot of practicing just to not win, which would be really neat to do, but right now it's just to go and be able to compete."