Thursday, March 24th, 2011
Pysanky represent life, renewal
By Janie Southard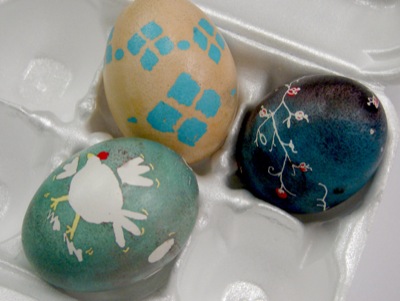 ST. MARYS - Arts Place Collective Center is celebrating the art of Easter with a Pysanky class.
Kat Koeller of New Bremen earlier this week helped a local group learn the basics of this folk art, which utilizes eclectic tools such as kistka, Delrin kistka, candles and beeswax. The melting beeswax is taken up through threaded copper wire and into the funnel pen called a kistka.
Artists trying to create the ornate, Ukrainian-style eggs made a design with various layers of wax then applied dye in succession to a real egg which had been hollowed out through a small hole. The wax preserves whatever color is beneath it when the new wash of color is applied.
Koeller said her interest in this and other folk art is her contribution to "keeping these arts alive." She operates her own studio in New Bremen, which features hand-dyed yarn.
The history of Pysanka began with Mary Magdalene's gift of an egg to the Roman emperor Tiberius soon after the resurrection of Christ. It was customary for people visiting the emperor to bring gifts. The wealthy brought jewels and the poor brought whatever they could. The story is Mary Magdalene handed Tiberius a white egg and said "The Christ has risen!"
The emperor was doubtful, saying that her statement was as hard to believe as to think "this egg can turn red." Immediately, the egg did turn red and thus became a symbol of the resurrection.
The Ukrainian tradition of painting eggs began with magic rituals of nature awakening in spring. The people believed the eggs could help put out fires and find lost animals. They also stroked their cattle with an egg to keep the animals healthy and mixed egg shells with seeds for better crops.
The style of the painted eggs is named for its region of origin. Kiev eggs are multi-colored, going from light to dark. Podil eggs feature delicately-drawn plants. Lyov eggs are geometrical and Gutsul eggs feature thin geometrics in a bright yellow color range.
The original eggs were typically birds' eggs but some were wood, stone, porcelain, glass, etc. In 1884, Carl Faberge was commissioned by Tsar Alexander III to create a gift for the Czarina Maria. The Faberge eggs, which were made for many years by father and then son, were made of silver, gold, nickel, palladium and an assortment of fine jewels.