Saturday, March 5th, 2011
Time for phase two
Main Street, Celina
By William Kincaid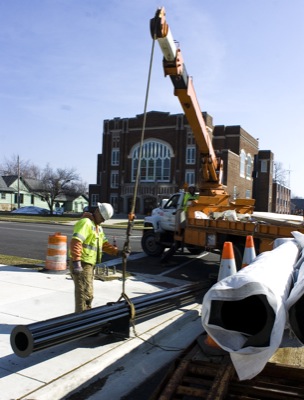 CELINA - The second phase of the Main Street reconstruction project is set to begin in just over a week.
Main Street, from Lake Shore Drive to Fayette Street, is scheduled to be closed March 14 to June 6 for the work. However, Celina Planning and Community Development Director Kent Bryan said it may be closed a few weeks longer as parking stripes and a final inch of asphalt need applied on the entire stretch of road.
Smith Paving & Excavating of Norwalk - contracted by the Ohio Department Of Transportation for $3.237 million - finished the first phase, from Fulton to Fayette streets, this winter and also will do the second phase work.
The second phase will be similar to the first phase - removing asphalt and reconstructing the street, along with new curbs, sidewalks, underground conduits for electric lines, decorative street lights and traffic lights.
The official truck detour during the project will be state Route 219 to Coldwater to state Route 118 to state Route 29. ODOT estimates the detour will add approximately 10 minutes to local commute times.
Bryan pointed out that like last year, local traffic will be able to navigate around the closed area. The intersection of Logan Street will remain open, he said.
He also said business owners are aware of the forthcoming construction, which is scheduled for completion before all the major festivals.
Bryan said he is going to ask for a meeting with city council members to discuss parking along all of Main Street. He is going to recommend 30-degree angled parking on the entire street - even in front of the post office - except for two blocks from Warren Street to Lake Shore Drive, which originally had parallel spots.
"It seems to work," Bryan said about the current angled parking spots. "People prefer the angled over the parallel."
He believes accidents are down along Main Street because of angled parking; he is awaiting an official report from Celina Police Chief Dave Slusser. Even large dual-cab trucks seem to fit within the spots and are not sticking out in the street, he said.
This week, 12 traffic signal poles were installed at the intersections of Fulton, Livingston and Market streets, Bryan said. The traffic signals have not yet been delivered. This will conclude phase one, except for the final layer of asphalt to be applied at the end of the entire project.
During the second phase, additional traffic poles will be installed at the intersections of Fayette, Logan and Wayne streets. A mast arm will support the traffic signals over the street, and there will be no overhead lines.
The reconstruction project also included replacing waterlines under Main Street and repaving numerous alleys, which are both complete.