Wednesday, April 6th, 2011
Bath spoils Celina's WBL opener
By Ryan Hines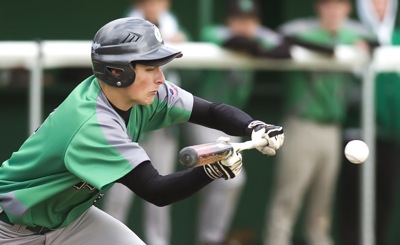 CELINA - Putting runners on base wasn't a problem for the Celina baseball team, but bringing them home was a different story.
An inability to get a timely hit spoiled Celina's Western Buckeye League opener as the Bulldogs stranded 10 runners on base in a 5-1 loss to Bath on Tuesday night at Montgomery Field.
Celina (5-2, 0-1 WBL) left at least one runner on base in every inning but one (fourth inning), and the Bulldogs stranded two runners on four different occasions.
"I thought we hit the ball pretty well tonight, but it didn't translate into runs for us. We stranded a bunch of runners. We just couldn't seem to get the big hit when we needed it with runners on base and that cost us," said Celina's head coach Drew Braun. "When we get runners in scoring position, we have to at least put the ball into play and we didn't do that on a couple of different occasions. They (Bath) were playing back and giving us a run if we could have put the ball into play, but we weren't able to do that."
Bath's head coach Brian Jesko was happy with his two pitchers being able to buckle down when Celina put runners on base.
"I thought our two pitchers (Nate Heffner and Keaton Sullivan) did a good job of refocusing on what they needed to do with runners on base," said Jesko. "We know they have a good hitting lineup, but our pitchers trusted the defense and did a nice job. I thought our guys did a good job of mixing in different off-speed pitches and keeping the ball off the middle of the barrel of Celina's bats."
The Bulldogs' defense helped Bath be the first to dent the scoreboard in the second inning. Bath's Jeremy Chandler reached first base to lead off the second frame on a passed ball on a strikeout and Caleb Norton followed with a one-out single to start a Wildcats' rally.
Following the second out, a Celina error allowed Chandler to score the first run and a Kyle Zimmerman RBI infield single gave Bath a 2-0 advantage with two unearned runs.
"We shot ourselves in the foot in the second inning and they scratched two runs across the plate because of two errors on routine plays," said Braun.
Celina was able to recover one of the unearned runs in the third inning after Braden Billger and Kyle Markle hit back-to-back singles. With two runners on an no outs, Celina elected to sacrifice bunt with its clean-up hitter to move the two baserunners up a base. However, an RBI fielder's choice by Cody Vogel and routine groundout ended the Celina threat with the Bulldogs down 2-1.
Bath put the game away with a three-run fifth inning. Johny Simindinger singled and stole second base before Matt Wise drove home the speedy Simindinger with an RBI single. Keaton Sullivan then drew a walk before Chandler put both runners in scoring position with a sacrifice bunt. Nate Heffner then laced a clutch two-out, two-run single that put the Wildcats comfortably in front 5-1.
Heffner, who had two hits in the game, pitched the first five innings to pick up the win on the mound for the Wildcats. Heffner scattered seven hits and one walk and struck out three while Sullivan gave up just one hit in two scoreless innings on the mound.
Billger and Mitch Albers had the lone multi-hit games for the Bulldogs, who didn't have an extra-base hit in the game. Billger had three singles and Albers two singles.
Celina is back in action again on Friday with a WBL contest on the road against Ottawa-Glandorf.