Tuesday, April 19th, 2011
St. Marys murder trial starts
Gordon Diggle accused of beating Steven Casad outside tavern
By Shelley Grieshop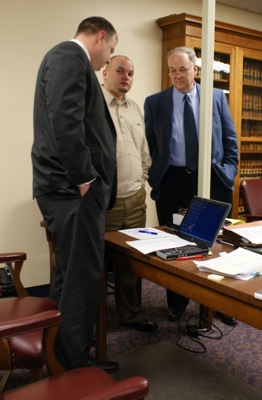 WAPAKONETA - The murder trial of Steven Casad began Monday with an Auglaize County prosecutor telling jurors that Casad named his murderer before his death.
Casad, 64, of St. Marys, was beaten outside the Friendly Tavern on Sept. 8 and died four days later from head injuries. Charged with his murder is Gordon Diggle, 30, also of St. Marys.
Assistant prosecutor Amy Beckett told jurors that Casad repeatedly told witnesses before his death, "I thought Gordy was going to kill me."
"His eyes were swollen shut ... his nose was broken. He was in such despair that this young man (Diggle) would beat him so badly for just a couple hundred dollars," Beckett said to the four men and eight women in the jury box. "(Casad) would not recover. He died with his girlfriend and his brother by his side."
Beckett told jurors that during the days following the assault, Diggle "flaunted" a lot of money in front of his friends and co-workers - money he didn't have prior to the night Casad was beaten.
Defense attorney John Poppe had a different story when addressing the jury. He said no physical evidence exists to prove his client is guilty of Casad's murder.
"You're going to have all the evidence presented ... and what you're going to find is there's a lot of unanswered questions. There's more clues than facts," Poppe said.
He admitted that Diggle stopped at the tavern that evening to use the bathroom and stayed to have a few beers with Casad, a longtime acquaintance. The men were cordial with one another and witnesses will testify to that, Poppe said.
Casad and Diggle left the bar at the same time, he explained. Diggle dashed across the street to get into his white Cadillac as Casad headed toward the alley.
"The police's theory is that my guy beat the heck out of him (Casad)" and then ran for his car, Poppe told jurors. "Then there'd have to be blood on my guy and in his car."
Casad's blood was not found in the car or on the T-shirt, shorts or shoes worn by Diggle that night, Poppe said. He speculated that someone - not his client - jumped Casad between the tavern and his home a half block away.
"Now it's time to solve the mystery. Who killed, who beat up on Steve Casad?" he asked.
Opening statements took place during the last 40 minutes of the first day of the trial. Earlier in the day, common pleas court Judge Frederick Pepple, Beckett and Poppe spent more than six hours questioning nearly 50 prospective jurors before selecting 12 and two alternates.
Diggle has pleaded not guilty to two counts of murder and one count each of felonious assault and aggravated burglary. He faces a maximum sentence of life in prison if convicted.
The trial is expected to last at least six days with proceedings suspended for Good Friday.