Tuesday, April 19th, 2011
Bulldogs rally past Cavs with four-run seventh
By Gary R. Rasberry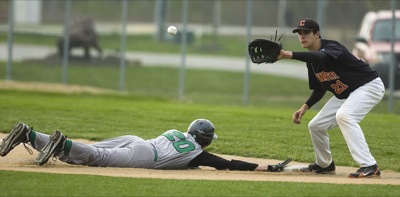 CELINA - The Celina baseball team entered this week with a four-game losing streak and the Bulldogs needed a shot in the arm to try and get back on the winning track.
Going into the bottom of the seventh against county rival Coldwater, things looked a little bleak for Celina as the Bulldogs trailed 6-3 after giving up five runs in the fifth.
But the Bulldogs took advantage of Cavalier errors and rallied back with a four-run seventh for a 7-6 win at Montgomery Field.
The Bulldogs even their record at 7-7 on the season after beating Coldwater (6-5) for the first time since 2007, snapping a five-game losing streak against the Cavaliers.
"Anytime we win against Coldwater, that's a good one for us," said Celina's coach Drew Braun. "Especially this one, just because we were reeling a little bit. ... We needed something good to happen for us. Hopefully, this will jump start us going into a big league game tomorrow (St. Marys) and a big league game on Thursday (Van Wert)."
For the first four innings Celina looked to be in control, leading 3-0 behind a stellar showing on the mound by the Bulldogs' Braden Billger.
Coldwater, however, rallied back as long flies by Aaron Rammel and Drew Klosterman got past Celina's outfielders and a Bulldogs' error that would have ended the inning allowed the Cavaliers to put up five runs for a 5-3 lead. The Cavaliers added another run in the sixth to make it a 6-3 advantage.
For six innings, Coldwater's pitcher Eric Schmackers put in a strong effort against the Celina offense. The Bulldogs got eight hits through six on Schmackers, but Celina only managed to score three runs.
"He has been battling most of the year for us," said Coldwater's coach Brian Harlamert. "We played good defense, for the most part, behind him."
Things changed in the seventh as Schmackers issued the first walk for either pitcher on the day in sending Mike Siefker to first. Kahl Knapke, already 2-for-3 with two runs scored, then reached on a Coldwater error. Mitch Albers followed with a fly ball that Aaron Rammel dove for but was unable to catch, loading the bases for Kyle Markle, who brought home Siefker to cut the Cavs' lead to 6-4.
Coldwater brought on Drew Klosterman to try and get out of trouble, but Derek Waterman greeted the new pitcher with a single to center that scored Knapke. When the ball got away from the outfielder, Albers scampered home to tie the game while Celina still had runners on second and third with nobody out.
"We picked the right time to string together a couple of hits," said Braun. "I'm proud of the kids for not just packing it in. They went up there, had good attitudes and mind sets at the plate and got the job done."
Klosterman sent Cody Vogel to first on an intentional walk to set up a double play with the bases loaded. After a Ryan Paulus pop out triggered the infield fly rule for the first out, Billger stepped to the plate for Celina. Billger stepped up and took an 0-1 offering to rightfield, deep enough to allow Markle to scamper home for the game-winning run.
"They scored early, we were able to bounce back and get the lead, and going (to) the last inning, we had what we wanted," said Harlamert. "... Eric had a good game to the end. He walks the first guy, we get an error, then you have to face their 2-3-4-5 hitters, who are pretty tough hitters (the hitters in the second through fifth spots - Albers, Markle, Waterman and Vogel - were a combined 8-of-13). Give them credit for scoring the four in the seventh."
Markle went 3-for-3 with two RBI while Knapke was 2-for-4 game with three runs scored.
Rammel and Schmackers each collected two hits for Coldwater.
Both teams are in league play tonight. Celina travels to St. Marys to face its Grand Lake rival in a Western Buckeye League game while Coldwater hosts Fort Recovery in Midwest Athletic Conference action.