Wednesday, April 20th, 2011
Powerful winds rip through Celina
Possible tornado causes damage in Mercer, Auglaize counties
By William Kincaid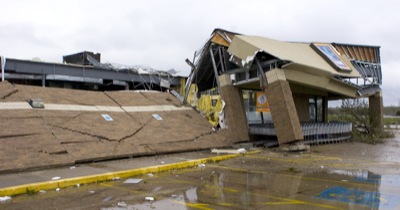 CELINA - One local business was destroyed, a barn was flattened, roofs were ripped off homes and trees were snapped during an apparent tornado Tuesday night. No injuries were reported.
Officials continue to assess the extensive damage in northern Mercer and Auglaize counties this morning.
The storm entered Mercer County about 11:40 p.m., said Mike Robbins, director of Mercer County Emergency Management Agency.
"At this point I'm calling it a possible tornado," Robbins said this morning. "I'd say it's very possible - it's just a path of damage."
National Weather Service officials will be in town today or Thursday to determine if a tornado occurred.
Weather warning sirens situated throughout the county and city were not activated.
Robbins said the sirens are controlled by central dispatch and activated when a tornado warning is issued by the National Weather Service. By the time the warning was issued for eastern Mercer County, the storm was already out of the area, he said.
"It was one of those deals where the radar did not see this," he said.
The county was under a severe thunderstorm warning when the storm, which appeared to be weakening, hit Mercer County, Robbins said. The National Weather Service issued a tornado warning at 11:53 p.m. after hearing reports of damage.
The Aldi store on Havemann Road in Celina was destroyed.
Aldi spokeswoman Julie Ketay this morning said company officials were on their way to Celina to assess the damage to the grocery. The roof is lying in the parking lot and the walls are falling in. She said it was premature to talk about reconstructing but said the company is committed to the Celina community.
The nearby Menards store also lost part of its roof, and there was minor damage to Bob Evans and Sonic, all located along Havemann Road, as well as the nearby Holiday Inn Express
Celina Police Chief Dave Slusser reported heavy damage to structures in the southeast part of the city.
"There is a distinctive path of damage that begins on South Lake Street at the shoreline of Grand Lake and continues northeast across the city," Slusser said in a press release. "Some homes and businesses in this line suffered heavy damage and some major transmission lines that cross the four-lane section of state Route 29 were also taken down."
Havemann Road in Celina was open this morning, but people were advised to stay away from the area unless they needed to purchase essential items, Celina Public Works Superintendent Joe Wolfe said.
Several businesses in that area are closed because of lack of electricity. Wolfe hopes to have power fully restored by this evening.
City employees arrived on the scene about midnight and closed roads to remove heavy debris, including parts of Menards' roof, Wolfe said.
The city also shut down Eastview Park. Downed trees destroyed the park's newest shelter house, took off the roof of one of the restroom facilities and damaged Montgomery Field.
"It's really bad, and the damage is extensive," Wolfe said.
He did not know when cleanup at the park would begin.
The entire city of Celina was without power from about midnight until 2 a.m.
Damage also was reported across the border in Auglaize County.
Troy Anderson, director of the Auglaize County Office of Homeland Security and Emergency Management, said there were residential roof damage, several barns knocked down or moved off their foundations and boats flipped upside down north of U.S. 33 toward Moulton Fort Amanda Road.
No injuries were reported.