Wednesday, April 20th, 2011
Residents tell tales of extensive damage
Buildings destroyed; no injuries reported
By Margie Wuebker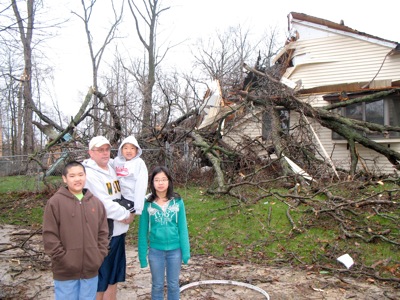 CELINA - Celina resident Tom Rable surveyed the storm damage to his home this morning and said, "Thank God, we're all safe and sound."
A heavy tree smashed onto the enclosed back porch and spacious kitchen of the split-level home shortly before midnight. The residence at 912 E. Livingston St. has been home to Rable and his wife Rosann since October 1996.
The Rables are among many who believe a tornado spawned the damaging winds, although the National Weather Service has not yet made that official ruling as of press time today.
Rable was watching television shortly before midnight when hail pelted against the home. He headed toward the stairs intending to awaken his wife and their four children ages 6 to 13.
"I got to the first step and the window exploded, sending glass everywhere," he said. "The noise was incredible like a powerful vehicle getting ready to drive through the house."
Eleven-year-old Mariah Rable was home this morning looking at the damage.
"The noise woke me up," she said. "But I never expected to find all of this."
The kitchen is in shambles with the exception of a few things such as religious statues standing undisturbed in a bow window.
Neighbor Mert Nottingham, 1000 E. Livingston St., surveyed the lawn strewn with branches, twigs and shingles. Twisted and downed trees from a wooded area out back provide insight on the the sheer power of the storm.
"I was in bed when the hail came followed by a boom," he said. "The noise sounded like a freight train rumbling through the neighborhood."
He and his wife planned to invite the Rables for breakfast with hot coffee.
"We'll be right over," 4-year-old Marcus Rable replied. "The storm made me real hungry, and my mom doesn't have a kitchen anymore."
Ron and Carol Kohn this morning surveyed their debris-strewn yard, which looked like a battlefield, at 7400 Staeger Road, just east of Celina.
"We were upstairs and Carol commented about a tornado warning in effect," Ron Kohn said. "I told her Stelevision reports indicated it was up in Van Wert, and then it struck 30 seconds later."
The Kohns heard the roar of a freight train and pounding rain followed by a boom.
"I assumed the storm had taken down a tree," he said with a tired sigh. "If only it had just been a tree."
Ron Kohn's 40-by-50-foot shop literally exploded from the powerful force of the wind. His Lake Erie boat now sails in a sea of debris while a pontoon lies in ruin. The wind picked up the couple's 34-foot Winnebago motorhome and dropped it into a field like an unwanted toy.
Their vehicles - a van and a car - are still visible amid the garage wreckage. The two-story house lost siding, shingles and window glass.
And yet they are grateful the five adults and one child at home at the time escaped without injury.
A branch protruded into the window narrowly missing furniture that once belonged to Carol's mother, the late Irene Garmann. She shook her head in disbelief and pointed to a cabinet containing her mom's porcelain, glass and crocheted angels.
"All the destruction and those angels remained standing," she said in a voice laced with emotion. "Somebody was watching from above."
Others who felt the impact of the storm shared similar comments.
"Things can be replaced and buildings can be rebuilt," Tom Rable said. "Fortunately, there were no deaths or serious injuries and that's a blessing."