Friday, April 22nd, 2011
Diggle's family talks
Prosecution continues deluge of witnesses in murder trial
By Shelley Grieshop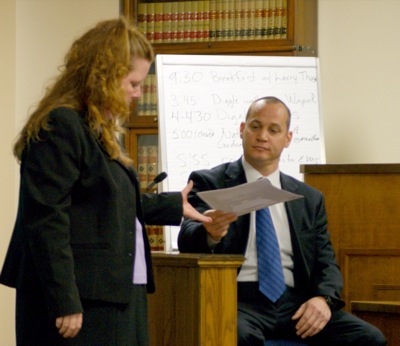 WAPAKONETA - Murder suspect Gordon W. Diggle, charged with the beating death of another man last fall, told his ex-girlfriend in a letter "I messed up."
The words were written by 30-year-old Diggle of St. Marys from his jail cell after his arrest in September, according to Rachel Dias of New Bedford, Mass., who also is the mother of Diggle's 7-year-old child.
Dias testified Thursday during day four of the ongoing murder trial in Auglaize County Common Pleas Court. She told jurors that Diggle was speaking about their relationship, not his involvement in the murder, when he penned the words.
"He was apologizing ... he always apologized for not being there for his son," she said in court.
Diggle is charged with murder, assault and robbery in the death of Steven Casad, 64, of St. Marys, who died four days after a beating Sept. 8 in the alley outside Friendly Tavern in the city. Diggle faces a maximum sentence of life in prison if convicted.
Dias told jurors she was interviewed by Massachusetts authorities about the case on Dec. 20. During that interview, which was taped and played in the courtroom Thursday, she said Diggle's letter stated "I messed up" and "just raise my son for me."
When Beckett asked her to produce the letter, she said she may have thrown it away or misplaced it. She also failed to produce it for law enforcement officers in Massachusetts, who had requested it in December.
Dias told Beckett the letter's return address was New York, where Diggle was arrested Sept. 13 and held before being extradited to Ohio in mid-December. Local investigators say Diggle fled Ohio several days after beating Casad and drove to the Massachusetts area where he formerly had lived.
Beckett noted to jurors a statement by Dias that Diggle had previously not made the trip out of state to see his son in 6 1/2 years.
Also testifying Thursday was Diggle's brother, Stephen Hayes, who also resides in New Bedford. The men have different fathers but the same mother, Hayes told jurors.
Hayes recalled a visit by Diggle on Sept. 13.
"He came to my back door and knocked on a window," he said. "He said 'I'm not staying, I'm going to turn myself in'."
Hayes said Diggle asked to take a shower but he refused the request because he knew his brother was wanted by police.
Beckett asked Hayes if Diggle told him "I just can't get it right," and he confirmed the statement.
"We said our good-byes, I gave him a hug and said I loved him and he left," Hayes said, adding he watched Diggle set his GPS coordinates for St. Marys before leaving.
Soon after the visit, Hayes called 911 and gave local police a statement about the incident. He also collected a monetary award for providing the tip to police, Beckett noted.
Under cross-examination by Diggle's co-attorney, Eric Allen, Hayes said his brother made no specific admission of guilt about the crime.
Diggle and Hayes' aunt, Loretta Avilla, also of Massachusetts, testified that she spoke with Diggle while he was in the area the weekend after the assault on Casad. After driving past Hayes' home, she passed Diggle on the street a block away, she said. They both parked and exited their vehicles and embraced.
"I said 'I think you're in deep trouble. That guy died,'" she recalled telling Diggle.
In a taped interview with police in Massachusetts, which was played in the courtroom for jurors, Avilla said Diggle replied "no way."
Beckett asked Avilla if Diggle knew what "guy" she was talking about and she replied "yes." She said Diggle told her that Casad went outside the bar that night to smoke a marijuana joint but didn't mention anything about a fight.
St. Marys police contend Diggle and Casad drank several beers together at the bar before Diggle followed him into the alley, beat him and took hundreds of dollars from his pocket.
Montgomery County Coroner Dr. Lee D. Lehman told jurors the cause of Casad's death was ruled "as a result of blunt force trauma to the head."
Several witnesses testified this week that Casad told them in the hours after the beating that Diggle repeatedly beat him with his fists and kicked him in the head during the assault.
Lehman explained the injuries to Casad by placing autopsy photos on a big-screen TV for jurors to see. Casad suffered no skull fractures but the blows to his head caused brain damage; a craniotomy was performed to remove excess blood, Lehman said.
On the evening of Sept. 12, a blood clot was discovered in Casad's lung and he died an hour later, the coroner said.
Two law enforcement officers from New York were called to the witness stand on Thursday. Noel Nelson, an investigator with the New York State Police, identified clothing and other items seized from Diggle's white Cadillac after his arrest Sept. 13. A T-shirt with the words "Finish Line" on the front and a Red Sox baseball jersey were shown to jurors by Beckett, who noted them but said little about their importance in the case.
A bartender at Friendly Tavern earlier this week testified that Diggle was wearing the Finish Line T-shirt the night of the assault; a friend of Diggle's told jurors Diggle was wearing the baseball jersey during a visit to his home Sept. 10.
Also taking the stand Thursday was New York State Police officer Seamus Lyons, who detailed Diggle's arrest. He said Diggle didn't immediately stop when instructed and had to be "physically pulled" out of the vehicle.
"He said he knew what this was about and he didn't kill the guy," Lyons told jurors.
Under cross-examination by Allen, Lyons admitted that Diggle may not have heard the instructions by police to exit the car if his radio was being played loudly.
Other testimony Thursday included a customer service representative from Verizon who explained how cell phone towers track calls. In related testimony, Lima Police Investigator Kevin DeLong, an expert in digital forensics, told jurors how he pulled data off the cell phone seized from Diggle during his arrest.
DeLong identified several text messages to Diggle on Sept. 11, including a news article sent to him about the beating incident. Diggle's attorneys have said their client didn't know he was a suspect in the case and had simply left Ohio after Sept. 8 to visit with relatives.
The trial is suspended today for Good Friday but will resume on Monday.
Beckett has put 30 witnesses on the stand this week. She told Judge Frederick Pepple on Thursday she likely will rest her case on Monday.
Diggle's attorneys said they'll need just a half day to present testimony. Both parties agreed jurors could begin deliberations as early as Monday afternoon.