Wednesday, April 27th, 2011
Jury rules Diggle guilty
Sentence for murder at least 15 years
By Shelley Grieshop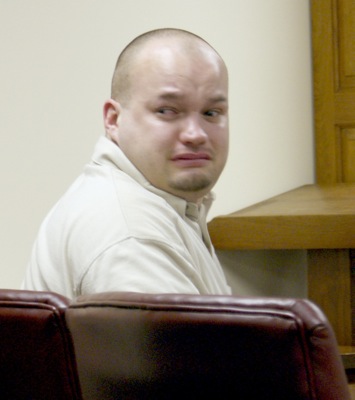 WAPAKONETA - Gordon W. Diggle of St. Marys cried Tuesday as a judge ordered him to serve 15 years to life in prison for the beating death of another man nearly eight months ago.
The sentence was handed down by Auglaize County Common Pleas Judge Frederick Pepple just minutes after jurors found 30-year-old Diggle guilty of two counts of murder and one count each of felonious assault and aggravated robbery.
The prison term is a mandatory penalty for one of the murder charges. Sentencing for the remaining charges will take place in several weeks, as agreed upon by the judge, the prosecutor and defense attorneys.
The murder case stems from the death of Steven Casad, 64, of St. Marys, who was beaten and robbed in an alley outside Friendly Tavern in the city on Sept. 8. Casad died four days later from blunt force trauma to the head.
The jury - eight women and four men - deliberated about three hours before announcing the verdict at 3 p.m. on the sixth day of the murder trial. A hush fell over the courtroom where a dozen or so spectators gathered.
Diggle, in street clothes and flanked by his attorney John Poppe, shook in his chair and sobbed as the judge declared "guilty" after reading each felony charge against him. Diggle's sister, sitting directly behind him with their father, cried uncontrollably.
Several members of the Casad family also were in the courtroom and remained quiet throughout the proceedings.
Poppe later told The Daily Standard the statements made by Casad to paramedics, police and others before he passed away were damaging to his case. He believes Casad named Diggle as his assailant because it was the last person he saw in the bar before he left.
"He told a couple people, not just one person," he said. "And we couldn't cross-examine him."
Poppe said he stands by his client's story.
"Innocent people sometimes get convicted," he said.
The Wapakoneta attorney said he wasn't sure if an appeal would be filed on Diggle's behalf but noted his busy schedule would not allow him to pursue it.
Several members of the St. Marys Police Department who investigated the murder were present in the courtroom when the verdict was read. Police Chief Greg Foxhoven said he wasn't surprised by the outcome.
"I had the utmost confidence in our department, especially (investigator) Kim Reiher," he said.
Foxhoven said he hopes the verdict will give Casad's family some closure and help them recover from their loss.
After leaving the courtroom, assistant prosecutor Amy Beckett reflected on the tragic case.
"I continue to delve on the fact that as (Casad) lay in the alley with the family friend he helped raise, he lost all dignity," she said.
She didn't consider the lack of physical evidence a challenge in trying the case, she said. Public perception - because of TV shows like CSI - is that every crime scene is very bloody and riddled with DNA evidence. That's just not reality, she said.
The blood trail found in the alley and Casad's own statements before he died were all they needed to obtain justice, Beckett said.
"I'm very excited to be part of a system that can restore dignity to the victim's family," she added.
County prosecutor Ed Pierce, who frequented the courtroom throughout the trial, said Beckett did a "great job."
"She prepared as hard for this case as any I can remember," he said, adding credit also must be given to the police department and investigator Reiher.
Prosecution's closing remarks
Before jury deliberations began, Beckett showed images of Casad's bloody face and told jurors the name of Casad's assailant "rang clear" as he identified Diggle to police officers, medical personnel and others immediately following the assault.
Beckett told jurors Casad was a good man and likely would have given Diggle money if he'd asked. The killing was unnecessary, she said.
"It was out of spite," she said, reminding jurors that Casad had called the cops on Diggle and another man in February 2010 for fighting in Casad's home.
She said the lack of physical evidence at the scene in September did not "somehow make the crime go away."
In conclusion, she asked the jury to come to "logical conclusions" and "rely upon your common sense" before selecting a verdict.
"Steven Casad begged for his life in that alley, and Gordon Diggle didn't save it for him," she said.
Defense's closing remarks
Poppe spent one hour reminding the jury there wasn't enough evidence to convict his client. At one point, he speculated that another acquaintance of Diggle and Casad may have been the assailant in the alley.
"The prosecution hasn't proven beyond a reasonable doubt who attacked Steven Casad," Poppe said.
He also theorized aloud that Casad may have fallen in the alley and hit his head on an air conditioning unit. To explain the injuries sustained by Casad, Poppe lay on the courtroom floor in front of the jurors and demonstrated how a 65-year-old man like Casad, weighing 250 pounds, may have suffered multiple injuries after falling to the ground and struggling to get back on his feet in the gravel alley.
Poppe discredited two trial witnesses who he said came forward with statements to police in efforts to snag award money. He also noted that Casad's statements to numerous people immediately after the assault weren't reliable because of the damage he suffered to his brain.
Poppe accused investigators of focusing only on Diggle as a suspect.
"Our goal here is to find out what the truth is," he said.

What the sentence means:
Gordon W. Diggle, 30, of St. Marys, faces a minimum prison term of 15 years but that could increase when the remaining phase of sentencing occurs in coming weeks.
A jury on Tuesday found Diggle guilty of two counts of murder and one count each of felonious assault, a second-degree felony, and aggravated robbery, a first-degree felony.
After the finding of guilt, the murder charges were "merged" and Diggle was immediately ordered to serve 15 years to life in prison for the single count of murder. He also was ordered to pay a $2,500 fine and court costs.
A tentative agreement between the prosecutor and defense attorneys may allow further sentencing to include only the aggravated robbery charge. The penalty for the felonious assault charge - which is an underlying felony linked to the merged murder charge - may be excluded at sentencing, per the agreement.
The judge has the option of making any additional prison time concurrent or consecutive, which could increase the current minimum sentence of 15 years.
A date has not yet been set for sentencing on the remaining charges. A presentence investigation and victim's impact statement was ordered before the final sentencing.
- Shelley Grieshop