Monday, May 9th, 2011
Celina opens tourney knocking off its rival
Division II Sectional Softball at Lima Bath
By Ryan Hines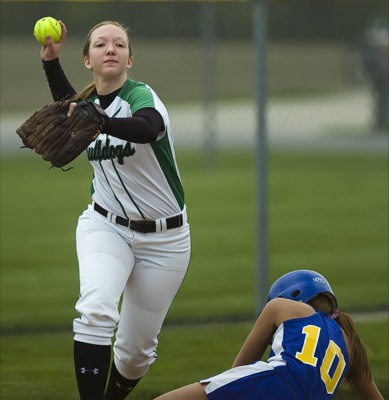 LIMA - Another blast off the bat of Abbey Zacharias and the reliable right arm of Katie Kerr helped Celina to a 3-1 win over rival St. Marys on Saturday in Division II softball sectional action at Lima Bath.
Celina (12-5) awaits the winner of tonight's Bath-Van Wert contest for a rematch on Wednesday at 5 p.m. The Bulldogs have already beaten Bath and Van Wert once this spring during regular-season Western Buckeye League matchups.
Zacharias blasted a two-run home run to rightfield in the first inning to give Celina a lead it never relinquished.
"We were all a little nervous so to get those two runs, it was really nice to start off with that," said Zacharias, who now has seven home runs this season. "It was a nice little relief."
The Bulldogs' Christine Thobe led off the first inning by launching the first pitch she saw for a double to deep centerfield. Zacharias' opposite-field home run put the Bulldogs on top 2-0.
"We knew they would come out and be aggressive and hit right away," said St. Marys' head coach Sue Grothause. "All they need is a couple of runs and they got those right away."
It's a good thing that Celina scored those two runs early because the Bulldogs had trouble hitting with runners on base the rest of the game. The Bulldogs stranded 12 runners in six innings and left the bases loaded on two separate occasions.
"We couldn't get our hits connected, so that was a little bit frustrating, not putting more runs on the board," said Celina's head coach Nicole Driggs. "Putting two runs on the board makes you feel good but you don't feel secure because you know they can power it."
Kerr didn't need much run support as she quieted St. Marys' offense, allowing just two hits in seven innings with nine strikeouts. In fact, both of the Roughriders' hits never left the infield. Kerr did walk four but the Roughriders were unable to get the clutch hit.
"I just had to keep my focus because I knew my defense was behind me the whole time," said Kerr. "My drop ball was working and I threw my changeup occasionally."
The lone St. Marys run came in the fourth inning. Erika Thornsberry was walked and then stole second before advancing to third base on a wild pitch and scoring on a fielder's choice.
"We just couldn't get the bats at the right time. We didn't discipline ourselves at the plate. She (Kerr) had great location on the ball. She was around the plate the whole time, just nothing down the middle," said Grothause.
The Bulldogs scored an insurance run in the sixth inning when Zacharias singled, moved to second on an illegal pitch and scored after a Kerr single and RBI fielder's choice by Leah Rose.
Celina hammered out nine hits, led by Zacharias 3-for-3 day at the plate while Thobe and Hoying added two hits apiece.