Thursday, May 19th, 2011
Bulldogs complete season with DH sweep
By Ryan Hines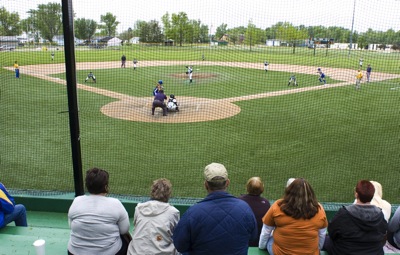 CELINA - The Celina softball team wrapped up Western Buckeye League play with an unorthodox doubleheader sweep on Wednesday at Montgomery Field.
After the Celina recreation department turned Montgomery Field into a one-day softball diamond earlier in the day, Celina finished a suspended contest against rival St. Marys with a 10-3 win and then capped the season with a convincing 11-1 six-inning victory over Ottawa-Glandorf.
The Bulldogs (14-7, 8-1 WBL) have clinched at least second place in the league standings with an outside shot of a share of the WBL title still in sight if St. Marys (10-8, 4-4 WBL) can beat Shawnee (19-0, 8-0 WBL) in a matchup tentatively rescheduled for Monday.
It has been quite a turnaround for Celina's softball team that had a 3-15 record the last two years in the WBL.
"The last two years we were looking up at the rest of the league from the bottom and that wasn't fun to do, but that's what makes this year's turnaround so special. The girls had a great season and were just one run away from going undefeated in the WBL," said Celina's head coach Nicole Driggs. "The 8-1 record in the league makes me really proud of the girls. When you lose your only game in the WBL in a 15-inning game, it was a pretty special season."

Celina 10, St. Marys 3
The Bulldogs held a 2-0 lead last Friday when rain caused the game to be suspended before starting up again yesterday. Celina had runners at first and third with one out during the second inning before Abbey Zacharias and Kylee Bader each had RBI singles to push the Bulldogs' lead to 4-0.
"They came out swinging the bats well and the runs they scored early really gave them confidence," said St. Marys' head coach Sue Grothause.
St. Marys' Haylee Kill had an RBI fielder's choice to score Rachel Wale and cut Celina's lead to 4-1 before the Bulldogs tacked on four more runs in the bottom of the third frame.
A three-run Bader double deep to left-centerfield helped push Celina's lead to 8-0. Bader was 4-for-4 against St. Marys with five RBI.
"Kylee went through a little slump toward the end of the season and it was really nice to see her break out today," said Driggs. "She hit the ball hard each time she got up to the plate."
Celina dodged a bullet in the fourth inning when St. Marys had the bases loaded and Roughriders' slugger Erika Thornsberry blasted a deep fly ball to leftfield. Since there was no home-run fence while playing at Montgomery Field, it was just a routine fly out close to 20 feet beyond the temporary flags and into the glove of Celina's Christine Thobe in leftfield. Thornsberry's blast would have been a sure-fire grand slam home run on any softball diamond.
"I play summer ball with Erika and I know that when she gets her arms extended that she can hit the ball a long way," said Thobe. "Coaches had me positioned at the flags and I was able to back up a few feet and make the catch for the out."
"She (Erika) had a nice hit there. It's too bad it wasn't a grand slam because of there not being a fence, but you can't do anything about it," said Grothause.
"That would have been a game-changer right there with a fence because it would have been a grand slam that would have gotten them right back in the game," said Driggs.
Celina added a run in the fifth inning on an RBI fielder's choice by Leah Rose while St. Marys scored a pair of runs on a Thornsberry two-run single in the sixth frame to complete the scoring.
Bulldogs' sophomore pitcher Katie Kerr got the win on the mound and allowed three runs on nine hits with eight strikeouts.
Celina 11, Ottawa-Glandorf 1 (six innings)
The Bulldogs carried the momentum from the win over St. Marys into the second game of the doubleheader against Ottawa-Glandorf.
Bader had an RBI single and then Rose and Kerr followed with run-scoring doubles to give Celina a 3-0 lead after the first inning.
"They hit the ball hard right off the bat and put us in a hole right away," said Ottawa-Glandorf's head coach Troy Yant.
"Scoring early was huge for us after already playing one game. We didn't press at the plate after scoring those early runs and it settled us in a little bit," said Driggs.
Celina grabbed a commanding 7-0 lead after sending nine batters to the plate in the third inning and scoring four runs on just two hits. Ottawa-Glandorf committed three errors in the inning while Amanda Hoying and Hillary Heiby had RBI singles to highlight the offensive outburst.
"We've had our ups and downs on defense in some innings this year and obviously that inning was not one of our better ones," said Yant. "I don't think the girls had their heads in the game at that point and Celina took advantage."
The seven-run lead was more than enough run support for Kerr on the mound as she had a no-hitter through 4 1/3 innings. Kerr pitched all seven innings of the second game and allowed just one unearned run on two hits with four strikeouts.
"Katie threw a 15-inning game for us last week, so we didn't have any concerns about her pitching the second game tonight," said Driggs. "In fact, I thought that she was throwing the ball harder in the second game than she did in the first game. She's like our energizer bunny, she keeps going and going. She did great."
O-G pushed its lone run across the plate in the top of the sixth inning on an RBI sacrifice fly by Kylee Pothast, but Celina sent the fans home early with a four-run sixth frame that triggered the run rule. Madi Kuhn's RBI single with two outs in the sixth inning cut the game short with the Bulldogs out in front by 10 runs.