Saturday, May 21st, 2011
Senate Bill 5 causes quick negotiations
By Shelley Grieshop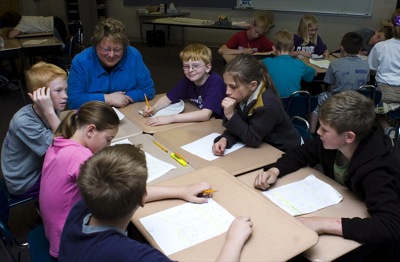 A struggling economy and looming changes in collective bargaining rules triggered quick contract negotiations this spring between area teachers and school boards.
Several teachers' unions in the Grand Lake area have agreed to new contracts with no annual raises and no step pay increases, which are additional raises based on years of experience and education.
Coldwater Teachers Organization President Dan Pohlman admitted the rush was on to get a new contract this year.
"Yes, we definitely wanted a contract before the June 30th date, which is when our old contract expires and the day (Senate Bill 5) would go into effect," he said.
SB 5 - passed in late March and effective July 1 - sets new limits for collective bargaining, prohibits employees from striking, abolishes step raises, bases salaries on merit and, in most cases, requires public employees to pay more for their health insurance.
Those opposing SB 5 are attempting to gather 231,000 signatures by June 30 to hold the law in abeyance until a referendum is voted on by Ohioans in November.
Coldwater's new, three-year contract was approved by the school board in April. It freezes wages and step increases the first two years.
Pohlman said securing a multi-year contract gives the board and teachers time to implement the changes in SB 5 "in a well, thought-out" manner.
But, even if there was no SB 5, he doesn't believe teachers would have secured a better deal.
"Due to the economic conditions we're in, I believe the contract would have been very similar to what we negotiated," Pohlman said.
St. Henry schools superintendent Rod Moorman feels the passage of SB 5 gave school boards the upper hand this year. Teachers are eagerly seeking long-term contracts with concessions to avoid - for as long as possible - the impact of SB 5, he said.
"The idea of SB 5 becoming law has teacher unions across Ohio settling for multi-year contracts with their districts to avoid the financial increases that would befall union membership," he said.
Several teachers and board members also cited the weak economy as the reason teachers settled for less this year.
"The state budget cuts this year and the economic climate had much, much greater affect on our negotiations than Senate Bill 5," said Ben Kramer, president of the New Bremen Teachers Association.
Board of education president Keith Bornhorst echoed the same sentiment.
"The economy was a much bigger factor," he added.
New Bremen BOE last month penned a three-year contract with teachers with no salary increases.
Kim Lammers, co-president of the Celina Education Association, said the economy lead to teachers agreeing to a two-year contract with no wage and step increases.
"Considering the current economic and political uncertainty surrounding school funding, members of the CEA once again have chosen to work cooperatively ... to reach a mutually-agreeable resolution," she said. "The association's members serve this community, but we are also members of it, and despite the unfortunate and disparaging rhetoric from Columbus, we are dedicated to the task of providing a quality education to all students in our district."
Amy Hoying, president of the Celina school board, said "mutual respect" between the board and teachers made negotiations easy. But she also acknowledged the pressure SB 5 brought to the table.
"I also realize that with the possibility of SB 5, the teachers were motivated to have an agreement that will postpone the implementation of the bill," she said. "Therefore, the contract is a win-win for both parties."
The true impact of SB 5 on local schools likely won't be felt until at least next year. Fort Recovery schools may be the first to test the waters; its current contract with teachers expires in August 2012.
"We will be treading in unknown territory," said Brenda Kaup, president of the teachers' union at the school. "However, we have a good working relationship with our administration and board of education. We trust that they will continue to treat us as the professionals we have proven to be."
Kaup admitted she and others are skeptical of the new teacher evaluation methods that are outlined in the new bill.
"To my knowledge, there is not an instrument available to evaluate teachers justly," she said.
Dave Hull, president of the Fort Recovery board of education, said SB 5 has not been discussed much among board members. It's just too early to know what effect it will have, he said.
"As far as the five-year forecast, we're pretending SB 5 doesn't exist," he said. "We still feel too much is up in the air yet."
Hull said he isn't too concerned; teachers at the school possess the right attitude.
"Our teachers are very pro-active and continue to come up with cost-saving ideas for us," he said. "They see the economic issues out there and don't want to be the problem."