Saturday, May 21st, 2011
Minster advances to regional
Division IV Baseball District at Coldwater
By Mark Ruschau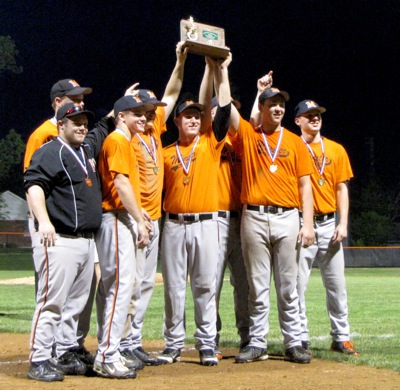 COLDWATER - The Minster Wildcats used an outstanding pitching performance from Adam Niemeyer and some late-inning offense to defeat the Parkway Panthers 5-0 and capture the Division IV district baseball title on Friday night at Veterans Field.
Minster will take a 19-8 record to the Springfield High School regional tournament next Thursday at 5 p.m. against National Trail, a 4-2 winner over Seven Hills at Covington on Friday. Parkway ends its season with a 13-9 record.
Niemeyer, just a sophomore, was masterful against Parkway's offense as he shut them out and allowed just five hits. Niemeyer had great control as well and didn't walk a batter while striking out 11.
Niemeyer escaped from two early jams to keep the game scoreless in the early innings. In the second inning, Parkway's Dylan Baker led off with a single and went to second on a sacrifice bunt but was left stranded as Niemeyer struck out Riley Bransteter and Derek Luth.
In the third frame, Parkway's Bryce Bedwell singled with one out and Brandon Moorman singled with two outs before Niemeyer got Jonathon Fent to fly out and end the threat.
"Adam Niemeyer is a gamer," commented Minster's coach Mike Wiss. "I talked to him about five minutes on the way home after the game last night, and again maybe five minutes on the bus ride over here today. He is a kid that rose to a challenge.
"As the game went on in the sixth and seventh innings his fastball stayed down. There were times early in the game when the ball came in high, but late in the game the ball stayed down and his curve got better," continued Wiss. "All through the game I kept telling him to continue to mix his pitches, and I will tell you what, we played good defense behind him."
"Niemeyer threw extremely well today," said Parkway's coach Mike Schumm. "We really did not catch up to his fastball like we should and he kept us off balance with his curveball. He had great command of his pitches and he was tough to hit today."
Niemeyer had one last Panthers' uprising to squash in the fifth frame as Corey Decker doubled with one out, but Bedwell and Brazle struck out to end the inning.
Minster got the all the offense Niemeyer needed with a single run in the fifth inning to break a scoreless tie. With one out, Chase Paxson blooped a double to shallow centerfield and scored on an RBI single by Niemeyer.
The Wildcats blew the game open in the sixth inning by tacking on four more runs. Doug Huber singled, Ben Heitbrink walked and Brett Meiring reached on a fielder's choice to load the bases. At this point Schumm made a call to the bullpen and brought on left-hander John Rollins to face left-handed hitting Ryan Hoying and Hoying greeted Rollins by lacing a two-run single to rightfield for a 3-0 Minster advantage.
"I just waited for my pitch and I took it to rightfield," said Hoying. "It is a great feeling to win the district, to know that we are a team and that we made it this far and hopefully we can keep it going."
After a sacrifice by Devon Poeppelman moved Meiring and Hoying up a base, Paxson laid down a perfect bunt up the first-base line, scoring Meiring from third with Hoying motoring home all the way from second base on the play to score the final run of the game.
"When Ryan Hoying came up in the nine hole in his third at-bat, they went to a left-handed pitcher and our two left-handed hitters are not very good against left-handed pitchers," admitted Wiss. "I asked him to keep his left shoulder in and get the bat on the baseball. That hit changed a lot of the strategy of the game, and we were able to get a bunt down and have a nice inning."
"They are a great hitting team and they put the ball in play and you have to make the plays when you have the chance to make them," said Schumm. "At this point in the season, your defense has to be strong, you have to get the hits at the right time. Tonight was a tough one. The better team usually goes on and tonight Minster was the better team."